Someone Marry Barry
(2014)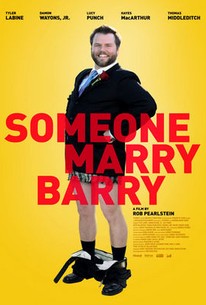 AUDIENCE SCORE
Critic Consensus: No consensus yet.
Someone Marry Barry Videos
Someone Marry Barry Photos
Movie Info
In this hilarious romantic comedy, a trio of childhood friends schemes to find a wife for their socially inappropriate pal Barry (Tyler Labine, "Monsters University"). Their plan completely backfires when his new girlfriend Melanie (Lucy Punch, "Bad Teacher"), turns out to be just like him. The raunchy comedy features Damon Wayans Jr. ("Happy Endings") and Hayes MacArthur ("Bachelorette"). (C) FilmBuff
Rating:
NR
Genre:
Directed By:
Written By:
In Theaters:
Runtime:
Studio:
Cast
Critic Reviews for Someone Marry Barry
Audience Reviews for Someone Marry Barry
Loved it!!!! This movies is my life LOL. The main reason i love this movie is because i identify with it. I believe the show has a great blend of over the top humor and an enduring quality to Barry and Mel's relationship. They may have been obnoxious to others but they were perfect for each other. If you are the kind of person who is irritated by "Barrys" (people lacking Couth) you may not like this movie. However if you can identify with this movie then your probably a "Barry" and loved it.
Philip Martin
You know that embarrassingly juvenile friend you can not shake? Magnify him by a thousand and you get Barry. His three friends can not take it anymore and think if he just found someone then they could be rid of him. And that's how you get: Someone Marry Barry. It's not that Desmond, Rafe and Kurt hate Barry. They just don't want to be active friends with him anymore. Their camp mate friendship with the 'inappropriate dude' from elementary school doesn't justify a friendship that should have faded away long ago. Barry is not necessarily a bad guy, he is just an "embarrassment, a detriment to [their] livelihood and reputations, a social wrecking ball." Tyler Labine is pivotal to the success of this movie, his likeability makes Barry's antics not completely intolerable and at times endearingly oblivious. Labine plays the crudest, lewdest, bluntest character imaginable but the film isn't at all cheap or grotesque. His friends, played by Wayans, MacArthur, Middleditch. are not malicious and the search for Barry's mate comes from a place of desperation and love; keeping the film light and entertaining. Damon Wayans Jr. is the comedic star of the trio and I can't wait to watch his career progress. All plot points and scenarios are sufficiently ridiculous for a comedy but written by Rob Pearlstein to be cohesive with the story. Someone Marry Barry is about a crass man meeting his equal and opposite in a mate so the humor is offensive and perverted by nature. After Barry meets his love interest Mel, played by Lucy Punch, the film slows down significantly. The main source of entertainment and humor, the friend dynamic and their interaction, changes with the addition of Mel and 'find him love' dilemma removal. Someone Marry Barry is a unique and refreshingly light comedy but is not for everyone.
Nicole of ArchonMagazine.com
½
There's a good story to be told here underneath all the gross-out humor that permeates throughout. This movie definitely gives the Farrelly brothers a run for their money. Thankfully though, in spite of that, Tyler Labine and Lucy Punch make this movie more watchable than it would've been otherwise. I can imagine, if I had read the film's script before it was filmed, that I would end up hating it. I'm not big on gross-out movies per se, but I can enjoy them if I'm in the right mood. Problem is, this film passes up a chance to tell a decent story about friendship, adulthood, and maturity in order to throw as much gross-out, and in once instance even blatantly racist, humor at you. These are some pretty universal themes here, because I'm pretty sure in most groups of friends, there's the one that still hasn't grown up, or matured, yet. A perfect example of this concept working perfectly is The World's End, who managed to tell a story about sticking by your friends, even if they're completely inappropriate, in a sci-fi setting. It CAN be done, and I'm pretty sure it could've been done here as well even if you still had the gross-out humor. You just needed a good balance between the humor and warmth. It isn't impossible to pull off. Another issue I have is the cast, more specifically Barry's group. I think they made for a decent group, all things considered. But it never feels like a genuine friendship. You can always tell when they cast a real group of friends, because there's a certain comfort and chemistry that can't be duplicated. For example the Apatow guys...the Seth Rogens, James Francos, Jonah Hill Jay Baruchels, Danny McBrides of the world all have a chemistry with each other where they can believably play friends because they ARE friends in real life. See how it works? Simon Pegg and Nick Frost have that as well, but they're a far 'smaller' group as compared to the Apatow group. I digress, the group, while individually the performances are solid, they never really gel as a group of friends. They're just actors being paid to pretend to be pleasant around each other. Essentially that's what acting is, but that doesn't mean that you can't capture something real from your cast's chemistry with one another. And this film doesn't have that. Perhaps my standards for cast chemistry in these bromances are too high, I've been spoiled by the Apatow group and by Simon Pegg/Nick Frost. I digress, the film follows every rom-com cliches you've grown to detest, with a raunchy twist. The scene where Barry tries to get Mel back with him talking about all the gross things he loves about her is an example. I really don't even know why I gave the film the rating I did. I suppose this is really average at best, but it only gets there thanks to Lucy and Tyler...and some of the lines are funny, but nothing to lose your mind over. Decent movie at best, if the Farrelly brothers are your favorite filmmakers then you'll definitely love this. Everyone else should go watch The World's End.
Jesse Ortega
Super Reviewer
Discussion Forum
Discuss Someone Marry Barry on our Movie forum!
News & Features