Something Wicked
(2014)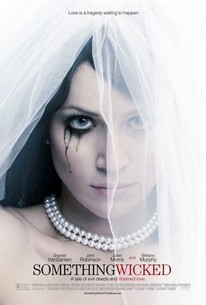 AUDIENCE SCORE
Critic Consensus: No consensus yet.
Movie Info
As a young couple embarks upon their wedding plans, gruesome secrets from their past collide with sinister forces of the present to ensure these newlyweds do not live "happily-ever-after."
Rating:
R (for violence, sexuality and language)
Genre:
,
Directed By:
Written By:
In Theaters:
On DVD:
Runtime:
Studio:
Critic Reviews for Something Wicked
All Critics (1) | Fresh (0) | Rotten (1)
Something Wicked is just another romantic thriller that's derailed by obvious plot turns and a crazy notion that murder and love go hand in hand.

Audience Reviews for Something Wicked
½
Arc Entertainment serves up another slice of thrills and chills with the suspense thriller "Something Wicked." Touted as Brittany Murphy's last performance, it delivers through deliberate psychological missteps and a lingering dark sense of dread that leaves the viewer wondering if all is what it seems. Although it's not quite up to par with most theatrical releases, it deserves a status a few notches above the Lifetime and TV-movies category it will no doubt be lumped into. In "Something Wicked," a young couple makes their wedding plans shortly after the death of the bride's parents in a tragic car collision with a train. As they settle into married life, gruesome secrets from their past collide with the present. "Something Wicked" achieves what all movies should aim for. It gives audiences a distraction from real life for over ninety minutes through a series of ups and downs and loops and sharp turns that any fan of suspense thrillers will enjoy. I had my suspicions of what might happen in the end, but it didn't affect the level of entertainment I experienced along the journey. "Something Wicked" is rated R for violence, sexuality, and language. Although there are a few sensual moments that get a little steamier than what we see in made-for-TV movies, that's really the only thing that would push this into R-rated territory. Things never go overboard in the areas of violence and gore. Brittany Murphy shows great emotional depth as the tortured sister-in-law of the lead character. She switches from grounded psychologist to a helpless, crazed, and empathetic shell with the sense of professionalism you would only hope for in a much more seasoned actor. I don't know whether it was for the role or not, but her greasy slick-backed hair and pale features matched her character's agonized and mentally drained personality. "Something Wicked" is the equivalent of a Lifetime movie if production and the budget were taken one step further. One or two good twists and a big lie by omission fuel this suspense thriller. A cast who are invested in their characters lends a level of quality to a film that successfully rises above what could have been just another direct-to-DVD casualty. It acts as an acceptable tribute to the late Brittany Murphy, who turns out a fine performance in her last role. www.ersink.com
Eric Shirey
3.9/10 Initially from watching the trailer I thought this would be a good movie and also this was supposed to be Brittany Murphy's last film so I really wanted to watch it. And so I did, but I was completely disappointed, which now I know why it was delayed for so many years. But still, it had a few good things, like for example, Murphy's performance which I thought was the best of the whole film-which isn't saying much-but she was indeed good and did in fact gave the movie a little lift, although I have to say that I was very distracted by her appearance specially her hair. Nonetheless, everyone else's performances weren't very good and almost like a joke, and by that I'm referring to Shantel VanSanten and John Robinson, who really had some bad scenes. Moreover, the editing was terrible, one of the worst I've seen, the continuity of scenes was dreadful, and the obvious extra footage that was added between scenes looked too obvious and out of place and really killed the timing. Therefore, a lot of the problems of the movie were technical and of the delayed production, which really made the movie look extremely bad. Also, the script was kind of all over the place and not very good. At first it was interesting to be kind of guessing what was going on and stuff, but after too much it becomes tiresome and too illogical, like in this case. Thus, the obvious outcome was that this movie was bad, and I don't know why I wanted it to be good, maybe to be a well deserved farewell to Brittany Murphy, but instead it was a one that probably should've kept shelved and unseen. Although I have to admit that it wasn't the worst movie I've seen in content, but editing and script wise, killed the movie completely. ~March 19, 2015~
Hugo Guerrero
One of the worst movies I've ever seen. Don't waste your money to see it in the theater...don't even waste your time when it's free on cable.
Jenny Driscoll
Something Wicked Quotes
There are no approved quotes yet for this movie.
Discussion Forum
Discuss Something Wicked on our Movie forum!