Something's Got to Give
(1962)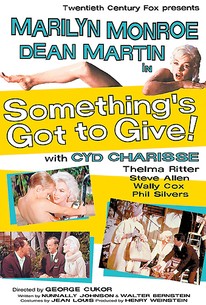 AUDIENCE SCORE
Critic Consensus: No consensus yet.
Movie Info
"My Favorite Wife" was never finished in 1962 first due to the firing of Marilyn Monroe from the film. She was eventually re-hired, but died in August of 1962. What existed of the film was remade into this short for a Marilyn Monroe DVD collection.
Rating:
NR
Genre:
,
Directed By:
In Theaters:
On DVD:
Runtime:
Critic Reviews for Something's Got to Give
There are no critic reviews yet for Something's Got to Give. Keep checking Rotten Tomatoes for updates!
Audience Reviews for Something's Got to Give
This movie had a lot of potential with Dean Martin and Marilyn Monroe... Its a funny smart classy comedy... Marilyn shines in her last minutes on the big screen... Too bad it was never completed, such a waste... :( RIP Marilyn Monroe... (must see for her fans)
Stefanie Rizzi
A Glimpse of What Could Have Been Once again, there's really only so much to be said about this movie, as it really isn't one. It gets listed as a "short," and there is indeed a little over a half hour filmed, including that famous nude swimming scene. However, this is really just what can be pieced together from what was filmed of Marilyn Monroe's final movie. It is included as part of a longer work, [i]Marilyn Monroe: The Final Days[/i], which is not in the Rotten Tomatoes system. The making of [i]The Misfits[/i], which I will get to eventually, was fraught enough, but it seems Marilyn was actually sick during the making of this, not just drunk. The studio, however, was too busy sucking up to Elizabeth Taylor to cut Marilyn Monroe any slack, and that combined with her probable bipolar disorder led to what the movie concludes was suicide. (I've never seen evidence to convince me that it wasn't and pretty clear evidence that it was.) Little of what was filmed actually featured Marilyn Monroe, but the beginning of the story is at least coherent. We start with Nick Arden (Dean Martin). He is in court, first having his wife declared dead, then marrying one Bianca Russell (Cyd Charisse). His wife, Ellen (Monroe), was a photographer for a yacht race, and she was lost at sea five years before. Naturally, while he is off on his honeymoon, Ellen and Steve Burkett (Tom Tryon) were picked up alive and well by an American submarine. (Insert [i]Operation Petticoat[/i] reference here.) She arrives home, and her children (Alexandra Heilweil and Robert Christopher Morley), who were babies when she left, don't recognize her but come to like her quite a lot. However, Nick recognizes her. He is now stuck with a living first wife after he's married a second one. What's more, he finds out that she and her fellow castaway called each other Adam and Eve. He sees the real Steve Burkett, who is surrounded by women, but Ellen produces a perfect nebbish (Wally Cox) to fill in as Steve Burkett. This is about where filming stopped, leaving the Arden family in permanent limbo. Honestly, I probably never would have watched it had Monroe not died. This is nothing against her; I've watched and enjoyed any number of her films. What I have not done is watched and enjoyed Dean Martin's films. I have, as you may know, a couple of databases put together from books of Movies You Should See, including the one rather forcefully telling you to see them before you die. I mark off which ones I have and haven't, and I have a notation system of movies I don't want to see no matter what the list says. If it's got Dean Martin, it makes the list. I will say that I admire his loyalty on this one. He refused to continue making the movie without Marilyn Monroe. He simply wouldn't hear of a recast. I like that. It's classy. It may well also have stemmed from a certain smug pleasure at being thought of as someone who could be romantically connected with Marilyn Monroe, who if nothing else exuded sex. Remember, he was on the set for that swimming scene! Still, even knowing that might not have gotten me to watch a completed version of this, and certainly not if she'd lived to film again. The film itself is nothing special. We are, after all, talking about a movie which could be seamlessly remade with Doris Day and James Garner, not that I've actually seen that version. (Though I probably will; it's got Thelma Ritter in it, and I like her.) Had Marilyn Monroe lived, it might have been a footnote to her career because of the nude swimming scene, but it would not resonate the way [i]The Misfits[/i] did, and it would not be marked for its humour the way [i]Some Like It Hot[/i] is. It would have been just another light sex comedy, one marked by the appearance of the sexiest woman in Hollywood. Depending on your terms, of course. But the film is notable now only because it is trapped in its unfinished state by its abandonment, by its dead star. I wouldn't exactly say that you should know all that before you watch the movie, though of course it does help to know why it cuts off so abruptly. But it's all anyone really knows about it. It is painful to consider that Marilyn Monroe, thirty-six when she died, was afraid of being old. Not of [i]getting[/i] old, mind. That she was already old. It's true that she was a woman who built her career around sexuality, around that striking beauty. And in Hollywood, thirty-six is getting old for a beautiful woman. The nude scene shows that she still had her figure, and that smile was still enough to light up a screen. And I never liked her much, mind; I think she was too flashy. It's also worth noting that her birthday was treated as an afterthought just a few months after Elizabeth Taylor was given a fairly elaborate blowout on the set of her own movie. What's more, the attention given to Elizabeth Taylor and [i]Cleopatra[/i] has a lot to do with the fact that [i]Something's Got to Give[/i] was unfinished and that Marilyn Monroe was treated so poorly by the studio. [i]Cleopatra[/i] was costing the studio a ton, and Marilyn Monroe was still a bankable star. The studio was hoping to pull itself out of the red, and Marilyn Monroe was at least good enough for that. Even if she was old.
Edith Nelson
½
Very few movies do I ever want to watch again but this one I have watched often. It makes me feel good. I love the storm at the beach and the afternoon delight. The Paris scenes were warm and wonderful. Great ending. Just what I wanted.
Ginger Mattox
Discussion Forum
Discuss Something's Got to Give on our Movie forum!
News & Features