Sometimes They Come Back...for More
(1999)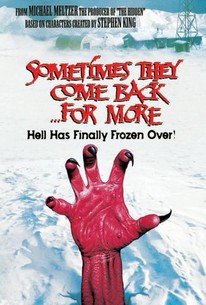 Sometimes They Come Back...for More Videos
Sometimes They Come Back...for More Photos
Movie Info
Adapted from characters created by Stephen King, Sometimes They Come Back ...For More is set in Antarctica, where a remote government outpost has been the scene of a horrible disaster, leaving only two survivors - medical officer Jennifer Wells (Faith Ford) and technical officer Shebanski (Max Perlich). Two military investigators, Sam Cage (Clayton Rohner) and Callie Wilson (Chase Masterson) are sent out to uncover the truth about what happened. They are soon confronted by evil forces that steal away Callie and lead them all into a terrifying nether world with a horrible secret. Sometimes They Come Back ...For More was also screened under the titles Frozen and Ice Station Erebus.
Critic Reviews for Sometimes They Come Back...for More
All Critics (5) | Fresh (0) | Rotten (5)
A good example why they shouldn't come back for more.
Your Movies (cleveland.com)
Audience Reviews for Sometimes They Come Back...for More
½
Baring no resemblance to, and having no connect with, the original film, Sometimes They Come Back...For More is just more crap. Blatantly ripping off John Carpenter's The Thing, a team is sent to investigate a shooting at an Arctic military base, but soon they are trapped by hostile weather and being hunted by the undead. There aren't any good performances per se, but the cast in pretty interesting and includes Faith Ford, Max Perlich, and Chase Masterson. Additionally, the plot, while poorly told and full of superfluous tripe, does have some interesting demon mythology to it. A generic film full of bad horror movie cliches, Sometimes They Come Back...For More is more of the same from this chaotic series.
Dann Michalski
Super Reviewer
Also known as "Frozen", this sucker is a super-dud. Few films are so bad as to obtain the highly coveted zero rating. This is one of those deserving few. Within minutes I knew this was unwatchable. Walking around in 60 degrees below (or 70--they can't decide) without a hat or gloves has no effect on our hero. What a remarkable fellow! Lots of moving around in dark, narrow hallways, with nothing but cheap scares and bad dialogue. Wants to be "The Thing", but fails in every way. Apparently renamed to try to get some more play. Avoid.
Mike Bierman
This movie was made by a guy who watched John Carpenter's "The Thing" and then watched "Witchboard" or some related junk. He sat down and had his plot 5 minutes later. Not that one need be a genius to do good sci-fi or horror movies, but sometimes a little imagination or attention to story details couldn't hurt. By the way, there is no imagination or attention to much of anything in this movie. Strictly for the true couch potato.
Cassandra Maples
Super Reviewer
Sometimes They Come Back...for More Quotes
There are no approved quotes yet for this movie.
Discussion Forum
Discuss Sometimes They Come Back...for More on our Movie forum!