Son Frere
(2004)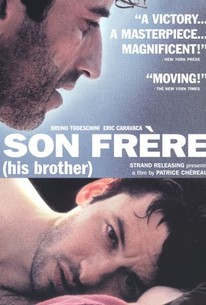 Movie Info
Patrice Chéreau, who directed the controversial Intimacy, returns with another story of a human relationship under difficult circumstances. Thomas (Bruno Todeschini) has been estranged from his brother Luc (Eric Caravaca) for several years, due in part to Thomas' difficulties in dealing with Luc's homosexuality. But when Thomas is diagnosed with a rare blood disease, which is difficult to treat and impossible to cure, he decides he wants to bring Luc back into his life. The brothers soon become inseparable, with Luc constantly at Thomas' side as he vainly struggles against the disease and confronts the indignity of treatment. As Thomas and Luc become closer, their new relationship begins to alienate their significant others, and Thomas' father (Fred Ulysse) cannot understand why his son doesn't fight against his illness with great vehemence. Director Chéreau's work on Son Frère earned him the Silver Bear at the 2003 Berlin International Film Festival.
Critic Reviews for Son Frere
Audience Reviews for Son Frere
Perhaps real life is full of pains already. Watching this movie with rare subjects like illness & facing death (points of view from both the patient & his surroundings) is uneasy & uncomfortable, in addition to the typical French trivial, insipid narrative, despite its deep, melancholy atmosphere. Bruno Todeschini is wonderful although his character is indeed rather blank for development.
WS Wu
[color=#000000]This was a good film, very dramatic and moving. I really enjoyed seeing the brothers' relationship unfold and grow. It is a hard subject that is dealt with here (long-term sickness, death) and the director did a very good job with it. I have thought about this film more and more as time has past. It does grow in ones mind. I thought that both actors Eric Caravaca and Bruno Todeschini shined. They really made this movie what it was by giving their all and instilling life into their characters.[/color] [font='Times New Roman'][font=Verdana][size=2][color=#000000]My review is nowhere near as eloquent as Othello's journal entry on this film. Be sure to check it out because it was the reason I rented this film. The link below will take you to it. [/color][/size][/font][/font] [font='Times New Roman'][font=Verdana][size=2][color=#000000][url="http://www.rottentomatoes.com/vine/journal_view.php?journalid=29715&entryid=273376&view=public"]http://www.rottentomatoes.com/vine/journal_view.php?journalid=29715&entryid=273376&view=public[/url][/color][/size][/font][/font]
Adam Ault
½
(DVD) (First Viewing, 1st Chéreau film) This film took quite a while to settle in my mind and on my emotions. I hate all hospital/medical films (I blanche at the first glimpse of blood, injuries and the like), and during long sections of Patrice Chéreau's film I was wincing and focusing my eyes everywhere but on the screen itself. What won me over was the underlying foundation of humanity and love that the film manages to radiate despite the grimness of the subject matter (a brother who takes care of his older brother as he slowly loses the battle to an ambiguous disease). I was particularly impressed with how Chéreau depicts the relationship between the two brothers: initially strained, it slowly gives way to a kind of love and respect that remains unspoken, chiefly because there's no need to try to explain it in words. Actually, much of what makes SON FRERE so powerful and affecting are the very things that [i]are[/i] left unspoken-- the sense of intimacy that is built through simply carrying out the actions that shouldn't have to be asked for in the first place. One gets the sense that it isn't duty that motivates Luc (the younger brother), but rather a largely silent, growing sense of satisfaction that healing is occurring on a spiritual level even as the physical body continues its descent into ruin and decay. While it is Bruno Todeschini's brutally physical performance as the older brother that gets the most attention (he seems to have been the one nominated for all the awards), I was much more impressed by Eric Caravaca's turn as the emotionally conflicted younger brother, for not only does he find a pitch-perfect blend of anger and sweetness, eroticism and innocence-- he becomes the emotional base that the rest of the film is delicately set upon. It's really a remarkable, understated performance. Now if only all films were able to capture with such feeling and poignancy the nuances and complications, the joys and the pain of human relationships and the human experience in general.
Jesse Last
Son Frere Quotes
There are no approved quotes yet for this movie.
Discussion Forum
Discuss Son Frere on our Movie forum!