Son of Flubber
(1963)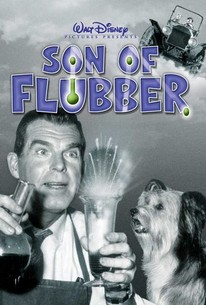 Movie Info
Son Of Flubber is the first big screen sequel attempted by Walt Disney productions. Professor Ned Brainard (Fred MacMurray) has come up with a new invention called "dry rain." A gun-like devise creates a rain cloud at the desired target. The one drawback is that the gun shatters every piece of glass in the immediate area. Brainard's faithful assistant Biff Hawk (Tommy Kirk) develops a by-product of flubber called flubbergas. Instead of the basketball team as in it's film predecessor, the football team is aided by the new invention to help them win the big game. The Professor faces the judge in court over the damage his dry rain gun leaves in the wake of it's use. The dark storm clouds of justice loom ominously over the inventor before a country agricultural agent produces giant vegetables that prove the value of the rain gun. Virtually the same cast appears in this film as appeared in "The Absent Minded Professor." The Disney sequel brought in over 9 million dollars in the initial release. It didn't take a college professor to prove the numbers added up quite well.
Rating:
G
Genre:
, , ,
Directed By:
Written By:
In Theaters:
On DVD:
Runtime:
Studio:
Walt Disney Productions
Critic Reviews for Son of Flubber
Audience Reviews for Son of Flubber
There's no sons in this film, but it's still a great sequel.
Marcus Woolcott
Super Reviewer
½
I know how audiences are often skeptical when it comes to sequels. However, this film is one that is truly worth the watch. A bouncy sequel with plenty of class, it is neither dull nor unoriginal and also stays within the complex boundries its predessesor set for it. A strong cast and plenty of witty dialogue, this film picks up where the first film left off and takes it to new heights rapping up the story that began in the earlier film-with hilarious and unexpected results. For full review and analysis check out my blog at www.rsgmweekly.blogspot.com by Robert Steven Mack
Robert Mack
Missing Some Basics of How Things Work It is true that, since it is fictional, Flubber gas can have whatever properties the screenwriters want to give it. This means that the experiments performed on [i]MythBusters[/i] about inflating a football with helium are basically irrelevant, because . . . well, among other things, because it may well be some of the best science in this movie. Indeed, what may well be the greatest flaw in the idea is pointed out by several of the characters several times. While the idea of a football you can kick almost the entire length of a football field is great, your opponents will be using the same ball, and therefore they will have all the same advantages as you. This is the opposite of a game-clincher, and by bringing it in only at the very last second, it actually makes sense. Which is really more than you can say for anything else. As we learned last night, Professor Ned Brainard (still Fred MacMurray) invented a miracle substance called Flubber. At the end of the movie, he takes his miracle invention to Washington to give it over to his government. In this movie, it turns out that this means he doesn't get a dime from it, and he's gotten his wife, Betsy (still Nancy Olson), to quit her job in a No Wife of Mine moment. So they're kind of hurting for cash. Anyway, he discovers that Flubber gas can cause rain, apparently, and in attempting to do that, he breaks half the glass in town. And this angers Alonzo Hawk (still Keenan Wynn), who seems to own both a loan company and an insurance company. And he goes to get Ned arrested, because . . . that seems to be driving the plot somehow. And there is football. The film seems a little uncertain on the workings of the legal system, too, just to throw that in with its vagueness on science. Whether Ned is liable for the broken glass or not is really a pretty basic question. I can't fathom its taking multiple days. Further, his status as a professor or not isn't a matter for a court of law, especially given that he's almost certainly got tenure. In short, I'm not entirely clear on exactly what they're all doing in court, and I really don't know what their show-stopping evidence means in terms of being actually relevant to anything. Really, it just feels as though they needed to pad out the film (it clocks in at one hundred minutes even), and this was the best someone could manage. I can understand the frustration the Brainards must be feeling about not having any money, but I'm really not clear on how they got in trouble with the IRS, either. I've no doubt Ned had higher dreams of income than were fulfilled by the start of the story, though how they became so poor they had to borrow a dime off the IRS agent (Bob Sweeney) to pay the paperboy is a little beyond me. However, was Ned filling out their tax forms in advance? He talks about the high hopes he had about the money Flubber would bring them, but the government doesn't actually tax you on hopes. Nor does it tax you on money people said they'd given you in a year; I know quite a lot of people who would have had a good chunk more money if the world worked like that. So how did they end up owing a fortune in income tax? Oh, it's a cute enough movie. It's not terribly good, and it didn't really have enough ideas to sustain an entire film. Naturally, of course, this meant that they crammed a whole bunch of ideas in together which didn't really fit. I understand the temptation to bring back Alonzo Hawk, and he does make a good villain. And I can certainly see Professor Shelby Ashton (still Elliott Reed) as the type who would hang around and wait for the marriage to fall apart. Betsy says she's right to be the wife of an academic, provided that academic is Ned, but I don't think that's true, meaning Shelby might not have so long of a wait as all that. Biff Hawk (still Tommy Kirk) is a proto-Merlin Jones in this, and I'm fond of those movies. However, I don't think all three of those plots work into a coherent whole.
Edith Nelson
Son of Flubber Quotes
| | |
| --- | --- |
| Biff Hawk: | Pop's the biggest loan shark in the state, and he's proud of it. |
| Biff Hawk: | Pop's the biggest loan shark in the state and he's proud of it. |
| Prof. Ned Brainard: | Let's just say your father is a very shrewd businessman. |
| Biff Hawk: | Shrewd!? The only time my pop ever got the worst of a bargain was when he got me. I just didn't turn out the way he wanted me to at all. |
| Biff Hawk: | Shrewd! The only time my pop ever got the worst of a bargain was when he got me. I just didn't turn out the way he wanted me to at all. |
| | |
| --- | --- |
| Biff Hawk: | Ducks at 12 o'clock, sir. |
| | |
| --- | --- |
| Defense Secretary: | Alright, remember: you're in Washington. Stop trying to be reasonable about money. Or your going to bollix up the whole thing. |
| Defense Secretary: | Alright, remember you're in Washington. Stop trying to be reasonable about money or your going to bollix up the whole thing. |
| | |
| --- | --- |
| Mr. Harker: | We do our part to keep the wheels of democracy rolling; warriors unsung, unknown, misunderstood. |