Son of the Bride
(2002)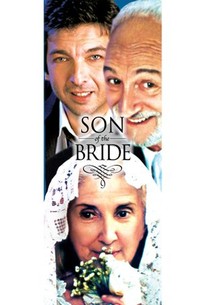 Movie Info
A family wedding brings out the best and the worst in the various parties involved in this warm but pointed comedy-drama. Rafael Belvedere (Ricardo Darin) makes his living running the restaurant ran by his father, Nino (Hector Alterio), and the combination of a stressful job and familial tensions are wearing him down to a frazzle. Rafael is divorced from his wife, Sandra (Claudia Fontan), he's all but a stranger to his daughter, Vicky (Gimena Nobile), and it's been almost a year since he last paid a visit to his mother, Norma (Norma Aleandro), who is battling Alzheimer's in a retirement home. Rafael has a girlfriend, Naty (Natalia Verbeke), but after a long day of work and dealing with his father, she finds he rarely wants to do anything but watch old reruns on television. With Norma's health declining, Nino decides that he wants to renew their wedding vows and give his wife the nice church service he couldn't afford when he was younger; however, arranging the affair turns out to be far more complicated than either Rafael or Nino imagined, and the circumstances lead to some profound changes for father, son, and the rest of the family. El Hijo de la Novia was directed by Juan Jose Campanella, who in recent years has been dividing his time between helming feature films in his native Argentina and directing episodic television in America.
Critic Reviews for Son of the Bride
Audience Reviews for Son of the Bride
Director Campanella lives up and delivered a funny and deeply moving story, of Rafael a fifty-something guy going through a mid-life crisis. It's quite difficult to find this kind of films, because most of the films nowadays lose sight of the most important thing, the real human emotion,the real lives, the real feelings, the real love. The film was so beautiful and everything worked perfectly together, the writing, directing and acting. There is nothing to say about the people or their interactions, they were just being themselves as in real life, there we don't have heroes. No wonder it was nominated for Best Foreigner Language Film.
Daisy Maduro
Super Reviewer
Son of the Bride Quotes
There are no approved quotes yet for this movie.