Song for a Raggy Boy
(2003)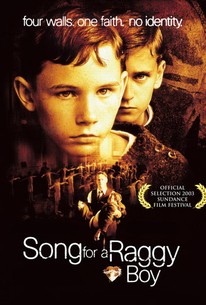 Movie Info
A teacher takes on the corrupt leadership of an Irish reform school in this drama based on a true story. William Franklin (Aidan Quinn) is a teacher who was born in Ireland and moved to the United States only to repatriate in 1939 after his leftist political views cause him to lose his job. Franklin becomes the first non-cleric instructor at St. Jude's, a school for wayward boys run by Brother John Iain Glen, who is a firm believer in strong discipline. But Franklin comes to believe the students are being treated with excessive force, with many of the children severely punished for trivial violations of the rules, and some treated as delinquents for the crime of not having parents. As Franklin campaigns for more humane treatment of his charges, he makes a powerful enemy in Brother John, who responds to Franklin's reform efforts with greater vehemence against the students, in particular Mercier (John Travers), an inquisitive child who has become a favorite of Franklin. Franklin's distrust of Brother John's regime reaches a high point when a new student informs him that he was sexually assaulted by one of the clerics. Song for a Raggy Boy was adapted from the memoir by Patrick Galvin, who also helped adapt his story for the screen.
Rating:
NR
Genre:
Directed By:
Written By:
On DVD:
Runtime:
Studio:
LolaFilms
Cast
Critic Reviews for Song for a Raggy Boy
All Critics (6) | Fresh (4) | Rotten (2) | DVD (1)
Hollywood Reporter
Top Critic

Audience Reviews for Song for a Raggy Boy
Disturbing. I give this such a low rating just because of how awkward it was. When it wasn't awkward, it had such graphic violence. I just didn't like it. I know it's based on a true story, which is one of it's redeeming qualities. I guess I just wasn't prepeared to see something quite like this. Well put together, though the war flashbacks were strange. I'll never watch it again.
Raquel Ross
Discussion Forum
Discuss Song for a Raggy Boy on our Movie forum!
News & Features