A Song Is Born
(1948)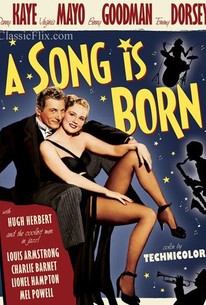 Movie Info
This remake of 1941 Ball of Fire, features Danny Kaye as one of a few professors researching jazz origins, and Virginia Mayo as a vocalist hiding out from her gangster boyfriend. The musical numbers are performed by the orchestras of Tommy Dorsey, Louis Armstrong and Charlie Barnet.
Critic Reviews for A Song Is Born
Audience Reviews for A Song Is Born
½
There's a lot of talent in this pallid redo of Ball of Fire but even with music and color added it doesn't come close to matching that film's charm. Virginia Mayo was a pleasant screen presence but Barbara Stanwyck she most definitely is not. On it's own terms an okay film but doesn't hold up to comparison to its source material.
I just got done seeing the film A Song is Born. Thanks Brennan for letting me barrow the film. It was one of my first musical films where I actually enjoyed the film for once. It had jazz, big band music, classical all within the same film. It had music as almost a nerd aspect and a gangster side within the same film. I enjoyed the music as well as the story. The best part, people were not singing at random parts of the film which seem unrealistic like most musicals. This is a film I would buy. This film had great musicians as well for example Louis Armstrong as well as many more. Another great thing about this film which I found unique for it's day is that African American's were not shown in their stereotypical role as a group of people who were not very bright but instead were very bright and smart and may not have known much about classical music but were very good at jazz music and were extremely talented at playing music.
STCENTERPRISE .
snow white and the seven musical genius hermits. not only one of the best musicals ever made, but one of my favorite films of all time. virginia mayo shows us again why she was one of the most beautiful women of her time, and dany kaye puts in a stellar performance. the appearances and music of two of the greatest musicians of all time, benny goodman and sachmo, were excellent. each piece of music in this musical about the making of jazz was perfect, and the love story hit the mark. the opening sequence was fuzed with clever writing and great humor, and the film never slows down. one of the top five films of its decade which features some of the greatest films ever made.
A Song Is Born Quotes
There are no approved quotes yet for this movie.
Discussion Forum
Discuss A Song Is Born on our Movie forum!