Avaze gonjeshk-ha (The Song of Sparrows)
(2009)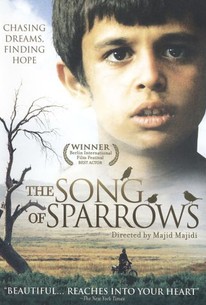 Avaze gonjeshk-ha (The Song of Sparrows) Photos
Movie Info
Fired from his job on an ostrich farm after one of the birds runs away and he is blamed for the loss, a man becomes so obsessed with collecting useless rubbish that he begins to neglect his wife and daughter while becoming completely oblivious to their familial hardships. Karim earned a decent living by working on the ostrich farm, so after he is fired he sets out on a futile attempt to locate the bird. One day, as Karim heads into town in order to have his daughter's hearing aid repaired, he offers a lift to a wandering man and decides that there is good money in the taxi business. But as his connection to the people of the city grows stronger, his personality begins to transform. Every day, Karim returns home with a new haul of useless junk, giving his picturesque courtyard the appearance of a sprawling junkyard. When his wife offers a spare door from the courtyard to a neighbor in need, Karim completely looses his cool and sets out to retrieve the door. When Karim stumbles and breaks his foot while rummaging through his second-hand goods, the kindness of neighbors makes him realize that his priorities have taken a turn for the worse.
News & Interviews for Avaze gonjeshk-ha (The Song of Sparrows)
Critic Reviews for Avaze gonjeshk-ha (The Song of Sparrows)
Audience Reviews for Avaze gonjeshk-ha (The Song of Sparrows)
½
The Song of Sparrows is about ostrich-rancher Karim being fire from his jobs as he struggles to support his rural family in Iran. It tells a simple story in an effective manner. This film feature characters that are simple becoming more dynamic through the course of the film. These characters are wonderfully portrayed by the actors making this film a joy to watch. The actors make this a film worth investing in alone. It's visually interesting, heart wrenching, fun, and most important of all captivating. There's never a dull moment in this well made Iranian film. The Song of Sparrows is a must watch for any movie lover. It's simple story that convey many emotions and in very artistic and heartfelt story that is easy to enjoy. Not much else to say, except go see it if you have not already.
Caesar Mendez
Super Reviewer
A film that could only be seen at a number of film festivals and that's why I am thankful there are Film Festivals. This movie is from Iraq and its about a man who works on a ostrich farm until one gets away, then he goes to Tehran where he is mistaken for a motorcycle cabbie. Just an over all good movie about life of one man in Iraq. 5 Stars
Bruce Bruce
Super Reviewer
An ok movie. Some of the scenes are just great, like trying to find the ostrich, discovering all the things you can transport on a motorbike (answer: Lots!), cleaning a sewer and trying to get a hearing aid. Still, these moments seem to have happened more by accident than design -- short stories stitched together. All this could have led to a nice conclusion, but it seemed to go really nowhere to me.
Cynthia S.
Super Reviewer
Avaze gonjeshk-ha (The Song of Sparrows) Quotes
There are no approved quotes yet for this movie.