Sonny Boy
(2011)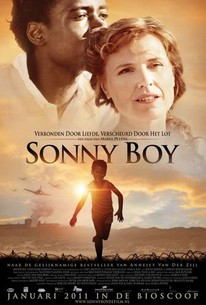 AUDIENCE SCORE
Critic Consensus: No consensus yet.
Movie Info
The story contained in this bizarre psychological drama/horror movie adds a new dimension to the term "dysfunctional family." It is set in a small town in New Mexico and is told through the eyes of "Sonny Boy," a horribly abused child who was raised by the brutal giant Slue, who rules Harmony with an iron fist and makes his money stealing and fencing televisions. Slue's "wife" and fellow gang member is the cross-dresser Pearl. They get Sonny Boy after their fellow gang-mate Weasel botches a car theft and kills the owners. He brings the car back and that's when they find the baby, whom Slue would have fed to the hogs had not Pearl begged him to let him raise the child. The kid might have been better off dead, for Slue constantly tortures the boy and even sets him afire one day. When not "toughening the boy up," Slue keeps him in a water tower and only feeds him live chickens to give him a craving for fresh blood. Seventeen years pass in this way. One day, Slue gets angry with the town mayor, loads Sonny in an ice cream truck and takes him to visit the town leader. Sonny Boy rushes in and bites the hapless mayor in the neck. From then on, Slue uses the poor teen to terrorize the town. One day, he leaves the boy briefly in a bar where Sonny meets seductive Sandy and is attracted to her. Had Slue not cut out his tongue, to keep Sonny from telling secrets to the police, he would have talked to the girl. Later Slue goes off on a business trip and Weasel and another take Sonny Boy out to kill a prospector for his gold. This is the final straw and the townsfolk finally retaliate. Sonny Boy survives the ensuing massacre and for the first time in his life is given a chance for normalcy and maybe even happiness.
Rating:
R
Genre:
, , , ,
Directed By:
Written By:
On DVD:
Runtime:
Studio:
TWE
Critic Reviews for Sonny Boy
There are no critic reviews yet for Sonny Boy. Keep checking Rotten Tomatoes for updates!
Audience Reviews for Sonny Boy
½
I saw this movie on TCM. It was pretty cool. I read that the director, Robert Martin Carroll was ostracized for the film. I read about it on films in review. com
RedCrushed Tomatoes
So I made the mistake of watching this in sobriety, and now I'm having recurring nightmares of David Carradine in drag, tormenting me with his fat husband and mute cannibal kid. Damn you, TCM, for playing "Sonny Boy".
Kevin McCormick
If you watch this movie and enjoy it, it will leave you reviewing yourself more than the movie. Is it in bad taste-yes, is it goorish-yes, is it well written-no, is it well acted-no...you could go on and on and it would be hard to find any way to compliment this movie. So why did I like it, don't know. I grew up next to a drive-in and think that has something to do with it??? I would'nt admit to enjoying this movie publicly to anyone of respect. But to whomever reads this...I enjoyed it. Watch it when you tired, too tired to analyze and you'll enjoy it more.
Brian Long
Sonny Boy Quotes
There are no approved quotes yet for this movie.
Discussion Forum
Discuss Sonny Boy on our Movie forum!