Sophie's Revenge
(2009)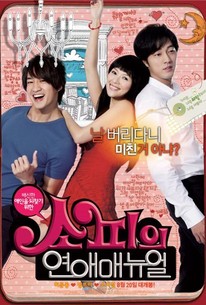 AUDIENCE SCORE
Critic Consensus: No consensus yet.
Movie Info
A Beijing comic book artist vows to win back her fiancée after being dumped for a pretty actress in this romantic comedy produced by and starring Zhang ZIyi (Hero, House of Flying Daggers). Approximately one month before her wedding to handsome doctor Jeff (So Ji-sub), pretty cartoonist Sophie (Ziyi) finds herself kicked to the curb and replaced by glamorous actress Joanna (Fan Bingbing). Devastated, Sophie determines that there's still enough time to win Jeff back using "scientific methods," and walk down the aisle on schedule. But the lovelorn Sophie won't be able to do the job all by herself, and in order to ensure her mission is a success she recruits Taiwanese photographer Gordon (Peter Ho) to be her right hand man. A longtime fan of Sophie's work, Gordon readily agrees, and is instantly smitten. Now the harder Sophie works to win back her ex, the more convinced Gordon becomes that he, not Jeff, is than man she should truly spend the rest of her life with. ~ Jason Buchanan, Rovi
Critic Reviews for Sophie's Revenge
All Critics (1) | Fresh (1) | Rotten (0)
Zany and hilarious, yet simultaneously touching and thought-provoking, Sophie serves up revenge as a thoroughly-satisfying cinematic dish not to be missed.

Audience Reviews for Sophie's Revenge
This is a movie that has its charms, its vibrant feel and Ziyi Zhang being adorable, but this movie isn't much better than just OK. Being quirky can only take you so far and you can't just depend on that. Maybe if you're Jean Pierre-Jeunet, and And that's the problem with this movie, it doesn't go beyond being quirky and silly. It's also way too light for my tastes. The last 20 or so minutes are also needlessly melodramatic and overly sentimental. And I'm not saying the movie is bad at all, it just feels too derivative of other movies and it feels like a movie with no real identity of its own. The problem is, it's definitely a more Americanized than your typical Chinese movie, that's a problem. That's one of the reasons I like foreign movies so much, since they're usually inspired by that country's particular culture, so you get a fresh perspective on a genre that you might be completely and utterly tired of, like romantic comedies. Granted romantic comedies are incredibly limiting. But then again, if you watched this movie, you wouldn't learn anything about China. It just doesn't feel unique to the country. So overall, not a bad movie, just one that probably should've been better.
Jesse Ortega
Super Reviewer
Who knew that Ziyi Zhang was such a sharp comedic actress? Anyone familiar with her only from her work in martial arts epics like House of Flying Daggers and Crouching Tiger, Hidden Dragon will be in for a dramatic change with Sophie's Revenge. Zhang plays Sophie, a comic strip artist and writer who has just lost her boyfriend to a gorgeous actress (Bing Bing Fan), and allies herself with the actress's ex in order to break them up. This is an amusing, silly and lighthearted movie that does romantic comedy right. Zhang is so adorable and cute (seriously, try not to fall for her, you will fail) that Sophie's Revenge would be worth seeing for her alone, but the rest of the cast and the movie as a whole hits the right notes and comes off as a wholly charming experience. The story doesn't exactly venture into unexpected territory, but there are lots of little animated scenes and other embellishments that make this more charming and imaginative than the run-of-the-mill movies in the genre being churned out today.
This is a romantic comedy that is combined with French's dark humor and other elements, Hollywood's filming style and also 3-D Animation. It's obvious our heroine has some serious delusion that mixed reality and fantasy. It's a lot like Birdget Jones' Diary. Anyways. It's nothing new but Zhang Ziyi is very cute in the film.
Sophie's Revenge Quotes
There are no approved quotes yet for this movie.
Discussion Forum
Discuss Sophie's Revenge on our Movie forum!