Sordid Lives
(2000)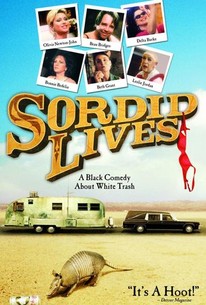 Movie Info
The bizarre death of Peggy Ingraham, the matriarch of a working-class Texas family, sets off fireworks within her dysfunctional family. Her determinedly proper daughter Latrelle is in denial over the fact that her son Ty, an actor trying to make it in Hollywood, is gay, and is relieved that her only brother, a gay drag queen and dedicated Tammy Wynette impersonator, has been confined to a mental institution for 23 years simply because he is gay. Latrelle's brassy sister LaVonda, however, thinks her brother should be released from the institution and has a perfect right to attend their mother's funeral. Meanwhile, Ty, who has strived hard to accept his homosexuality, realizes that there is no way he can return home for his grandmother's funeral without coming out to his mother.
Rating:
R (for sexual content, nudity and language)
Genre:
,
Directed By:
Written By:
In Theaters:
On DVD:
Runtime:
Studio:
Critic Reviews for Sordid Lives
Audience Reviews for Sordid Lives
I am beginning to wonder if Hollywood is running out of ideas for movies, where they will just jump on anything, and make a movie about it. There are just way too many people in this movie, with way too many problems, that some of it just seems like and old man rambling about the past, who can't stay on one subject for more than five minutes. There are a lot of interesting charactors that do make the movie interesting, Such as the gay son and the mother who would rather not talk about his life. The smoker, who seems to be the only sane person in the movie. There is nice interaction between the sisters, while some charactors seemed un-necessary such as Olivia Newton John. Who seemed to be there all through the movie, just to throw in a song. But, the most fun and interesting, had to be the old drag queen in the mental hospital, and his shrink. I don't know, but, I think the actress who played the shrink was crazier than anyone in the movie...almost to the point of having a gay man have sex with her, just so she can prove a point. There was a lot of babbling in the movie that took up way too much time, and the whole gun toting drunken sisters, just distracted me, and confused me, as to what the creator of this movie had in mind by throwing that in. The final scenes of the movie were decent. But, I think a lot of the movie was just hard to follow. But, I was kind of glad that there was at least a happy ending for some. And, there was some decent acting, but as a whole...it was just weird. Like someone got ahold of someones diary, and passed it around to several people to create a story, only a lot was missing.
Brian Mc
½
Perhaps 'Sordid Lives" hits to close to home to simply enjoy. Pill-poppin' Southern Baptist conservatives from Texas. Yeah, we all can relate to this scenario. For the sake of maintaining our 'Holier-than-thou' transparancy, we will say we know of OTHERS, that this movie identifies with. Not only was this movie hysterical, it was hauntingly realistic to the point of being uncomfortable. With a stellar cast, great writing, and a sense of humor that combines Dorothy, Blanche, and Rose.....how could this film fail? It doesn't, on any level. So why do the critics have negative things to say? Perhaps the glass revolved into a mirror, and in that mirror, to many critics saw themselves staring back. Whatever the reason, watch 'Sordid Lives' for yourself, and make sure you remind yourself that this is NOT a biography of your life, but simply a magnificent movie designed to make you laugh out loud. And you will.
steve carter
Sunil Jawahir
Super Reviewer
Sordid Lives Quotes
There are no approved quotes yet for this movie.