Soultaker
(1990)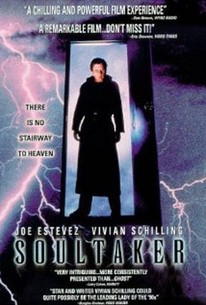 Movie Info
Two young people brought to the edge of death find themselves dragged back by a mysterious stranger in this horror story. When four teenagers are seriously injured in an auto accident, a spectral man dressed in black (Joe Estevez) arrives to claim their souls. But it seems that the Soultaker has arrived too soon; as he tries to draw their spirits from their bodies, it becomes evident that two of the kids, Natalie (Vivian Schilling) and Zach (Gregg Thomsen), aren't actually dead, but merely comatose and will soon recover. The Soultaker is determined to claim four souls, no matter how many have actually passed on, and he finds himself locked in a desperate struggle to take the other two victims with him, whether they like it or not. Vivian Schilling, who plays the female lead in Soultaker, also wrote the film's screenplay.
Rating:
PG-13
Genre:
,
Directed By:
Written By:
In Theaters:
On DVD:
Runtime:
Studio:
Victory Pictures Corporation
Critic Reviews for Soultaker
All Critics (5) | Fresh (0) | Rotten (5)
Much better with the MST-3K guys riffing on it.

Stealing lives, two hours at a time.
Capital Times (Madison, WI)
Audience Reviews for Soultaker
This is a fun movie. Vivian Schilling is gorgeous and she's a great actress. The creeps at MST3K ripped this movie, but what have they done except play with puppets and trash the work of others? Bill Corbett who played Crow T. Robot wrote the horrible movie Meet Dave. Soultaker had a budget of $242,000 while Meet Dave cost 60-100 million. I wish Vivian would release this on dvd with an audio commentary featuring her and Estevez. Or better yet, make a sequel!
Melvin VanBuckSnort
The byproduct of when people with no talent write and star in their own movies (M. Night Shamaylan are you listening?), Soultaker uses this formula to create a perfect storm of bad film making. "Starring" Joe Estevez, brother of Martin Sheen (were Don Swayze and Joey Travolta busy?), Soultaker is about a group of teens who get into a car accident because their stereotypical 80s douchebag buddy, who can only be described as a homeless man's Brian Bosworth, crashes them into a tree. Preordained to die, the two protagonists tempt fate and survive, but in a comatose state (the audience can relate) and now they must escape the Soultaker as he tracks them down in a sort of dream world as he tries to take their souls. It's "The Final Sacrifice" meets "Nightmare on Elm Street" meets "Final Destination" meets an extra chromosome. The amazing part of this movie is that nearly 2 decades before the advent of modern 3D movie technology, they made it feel like Joe Estevez was actually popping out of the screen and taking my soul as I watched this movie. However, the true star of the picture is the jaw of Robert Z'Dar. A snub on the list of the 8 Modern Wonders of the World if there ever was one, your jaw will drop (pardon the pun) when you catch a glimpse of this guy. Forget 3D, this guy's jaw is in 4D. He puts the "man" in mandible. What was I saying? Oh yeah, best movie ever.
Larry Cenotto
Horrible movie, actors, special effects, director, story, etc... This movie was just plain stupid.
Soultaker Quotes
There are no approved quotes yet for this movie.
Discussion Forum
Discuss Soultaker on our Movie forum!