South of the Border
(2010)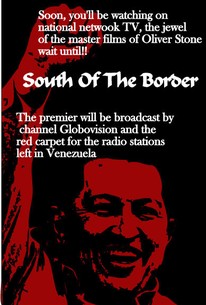 South of the Border Videos
South of the Border Photos
Movie Info
There's a revolution underway in South America, but most of the world doesn't know it. Oliver Stone sets out on a road trip across five countries to explore the social and political movements as well as the mainstream media's misperception of South America, while interviewing seven of its elected presidents. In casual conversations with Presidents Hugo Chávez (Venezuela), Evo Morales (Bolivia), Lula da Silva (Brazil), Cristina Kirchner (Argentina), as well as her husband and ex-President Néstor Kirchner, Fernando Lugo (Paraguay), Rafael Correa (Ecuador), and Raúl Castro (Cuba), Stone gains unprecedented access and sheds new light upon the exciting transformations in the region.
News & Interviews for South of the Border
Critic Reviews for South of the Border
Audience Reviews for South of the Border
½
Everyone has their own opinion of filmmaker Oliver Stone. A lot of people love him and a lot of people hate him. I'm a huge Oliver Stone fan. I believe him to be one of the more courageous filmmakers out there. JFK, Platoon, Salvador, and a variety of his other works prove his courageousness. He has opinions and a lot of those opinions differ from those of the American people. There's a reason for his "craziness" as some would label him. Others like him, such as Jesse Ventura or Alex Jones that see through the government are always going to be called crazy or, in some cases even, anti-America, when in fact that couldn't be more from the truth. My respect for Oliver Stone isn't only as a filmmaker, but as a human being. Stone once again shows his courageousness with this documentary, South of the Border. Stone ventures to South America to interview a variety of South American presidents that follow the lead of revolutionist Bolivar, but mainly at the center of this film is Hugo Chavez of Venezuela. These presidents and Hugo Chavez in particular were completely blasted by American media. Media outlets would even go as far as comparing Chavez to Hitler and saying he is a drug addict.  This movie is about more than just some presidents in South America though. At front and center is the fact that our media lies to us on a daily basis, spouting off what the American government and corporations want us to hear. Disinformation is a huge facet of our media and there's still a lot of people out there that don't realize it, despite the fact that it is right in our face each and every day.  As a documentary, South of the Border is a well made, informing, and provocative one. Stone gives us a glimpse into the real people that are running countries in South America, like our media and government won't do. That's the most important thing I take away from this film. At least someone is willing to actually listen to the other sides story, instead of just relying on our politicians and corporations to spout off lies that help their own agenda. Thank God for people like Oliver Stone. 
Melvin White
Super Reviewer
½
Once upon a time, Oliver Stone was a superb director, expertly balancing compelling stories and politics, but eventually he would just be more interested in making a point more than anything else. Ironically, I thought maybe that same quality would make him a good documentarian, like Spike Lee, but "South of the Border" proves that maybe alas it is not meant to be. And that's not only because of his droning narration. In trying to explore the recent rise of progressive leadership in South America, Stone nobly seeks to reverse the perceptions that they are all repressive dictators, forgetting for a second that Fox News has long been a joke.(Okay, admittedly, there is that episode of "The Good Wife" and being photographed with the President of Iran is not going to win you any fans.) Even with access to the presidents, he frames the debates not on the countries' terms of success, but only in relation to the United States, which are very favorable when compared to the failed promise of the Obama Administration. And I like the Ecuadorian president suggesting that he would allow American bases in his country if they allow an Ecuadorian military base in Miami. Stone would have been better off if he had not relied so much on second hand sources and gone straight to the person on the street. You can do better by seeking out superior documentaries, especially the excellent "The Revolution Will Not Be Televised" which focused on the failed 2002 coup attempt in Venezuela, proving that sometimes the good guys win.
½
You mean the Bush White House distorted facts about South America? No Way! Fascinating documentary that sheds a lot of light on subjects often kept in the dark.
Ken Stachnik
Super Reviewer
South of the Border Quotes
There are no approved quotes yet for this movie.
Discussion Forum
Discuss South of the Border on our Movie forum!