South of Heaven
(2008)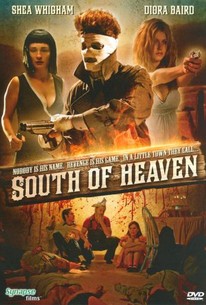 AUDIENCE SCORE
Critic Consensus: No consensus yet.
Movie Info
J.L. Vera's wild revenge film South of Heaven begins with retired Navy-man Roy coming home, only to be mistaken for his reprobate brother by men who the brother owe lots of money too. The bad guys burn Roy to death, but it turns out he isn't really dead, but comes back to life, wrapped in bandages from head-to-toe, and goes by the name Nobody. Now Nobody spends his days hunting down and killing the people responsible for turning him into what he is.
Critic Reviews for South of Heaven
All Critics (1) | Fresh (1) | Rotten (0) | DVD (1)
It's the Coens meets Sam Fuller while watching Looney Tunes and making an '80s mix tape full of The Smiths and Depeche Mode. I (freak)ing loved it.

Audience Reviews for South of Heaven
½
A curious noir riff, grounded by Shea Whigham's remarkable performance as a psychopath (sociopath?) on the run.
William Goss
Super Reviewer
There?s a marked difference between stage and screen, and South of Heaven is a film that really reminds a viewer of that difference. More than its limited locations, small cast, and hand-painted backdrops, the film also has the dialogue of a good play, with interesting character monologues and audience asides that come close to breaking the 4th wall. Still, I?m not sure that South of Heaven, with all of its looney tunes ambition (think the Coen Bros meets Lil? Abner meets Darkman, then make that a noir), really works as a movie. It works as a story, but I could never quite overlook the un-cinematic-ness of it, as on display here. The same story with a bigger budget and a little bit of script fat-trimming would probably be an incredible movie, and it?s almost a shame to see it exist in the form that it does?too low-budget for its own good. The cast is all-around good, doing good service to the material, and J.L. Vara may be a writer to watch. If you have an open heart to DIY movies, truly independent stuff, then you?ll feel rewarded by South of Heaven.
John Gholson
Really unusual-looking, but entertaining, noir with a distinct southwestern vibe to it. Sadistic, serious, realistic, and cartoony at the same time. And hey, there's some singing, too!
Brett Cook