Southbounders
(2005)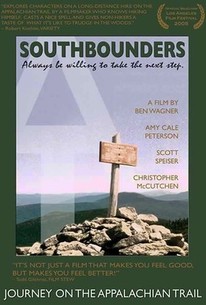 AUDIENCE SCORE
Critic Consensus: No consensus yet.
Movie Info
Can a woman find love and fulfillment while spending half a year in hiking boots? Olivia (Amy Cale Peterson) is a medical school student whose life and studies have been taking a turn for the worse. Deciding she needs to boost her confidence and get back to nature, Olivia decides to hike the Appalachian Trail, a demanding 2,170-mile path that stretches from Maine to Georgia. Olivia has also decided to "thru-hike" the trail -- cover the entire distance in one go over the space of six months. The physical challenges of the extended hike eats into Olivia's spiritual journey at first, and it doesn't help that she soon gains an unwanted traveling companion, Slackpack (Chris McCutchen), a well-meaning but overbearing man who seems a bit out of shape for the task ahead of him. Just as Olivia has started getting used to Slackpack, she discovers another powerful distraction. Rollin (Scott Speiser) is a handsome, soft-spoken hiker who crosses Olivia's path when he hurts his leg. Olivia helps Rollin patch himself up and get back on the road, and it isn't long before they develop a powerful rapport. While Olivia and Rollin clearly belong together on the trail, they begin to wonder if they have a future together when the hike had ended. Southbounders was the first feature film from writer and director Ben Wagner.
Rating:
NR
Genre:
,
Directed By:
Written By:
In Theaters:
On DVD:
Runtime:
Studio:
Unknown
Critic Reviews for Southbounders
There are no critic reviews yet for Southbounders. Keep checking Rotten Tomatoes for updates!
Audience Reviews for Southbounders
I came across this one on Netflix and absolutely loved it. It's a love story of sorts, but the narrative is definitely not what drew me to this movie. If you live on the East Coast and have ever been out hiking, seen an AT sign, and wished you could just keep on hiking the whole Appalachian Trail this film serves as a worthwhile peek into that journey, all be it a fictionalized one. An unlikely collection of travelers take us southbound, from Mt. Kattahdin in Maine to the trail's terminus in Georgia, treating us to a beautiful collection of sights along the way. Accompanied by an enjoyable soundtrack of modern bluegrass and folk that perfectly melds with the film, it makes for an enjoyable 86 minutes. Technically this film isn't perfect. Sometimes it's indie roots shine through, and the fact this is just one step above a student film is evident, but it's also lovingly put together by people who obviously did their homework in researching the trail, and includes real stops and sights that mark the journey. While undoubtedly not for everyone, if you love the outdoors, have ever contemplated trying the Appalachian Trail, and can stand a movie that is neither driven by dialog or explosions give this little film a try, you might like it as much as I did, heck, it might even convince you to walk a little further the next time you come across an AT sign.
Andrew Krauss
http://www.cinemapat.com/2010/10/southbounders-ben-wagner-2005.html At first glance, one might think this is a documentary. Especially after viewing the opening sequence. At least, that is what I thought. I was expecting a documentary about a thru-hike southbound on the Appalachian Trail, but was pleasantly surprised to find out this actually had a story. Southbounders tells the tale of a fed-up 20 something who decides to attempt to find something she was missing in her life by hiking southbound from Maine to Georgia on the Appalachian Trail. The film is chock full of gorgeous vistas and shots of beautiful nature. I can really appreciate that they filmed this movie actually on the trail which was great. The soundtrack is one of the films most appealing features. This movie has a lot of heart, you can tell the filmmakers really have a love for hiking and the AT itself. Olivia, the lead of the movie played by Amy Cale Patterson, begins the journey as a "newbie" but learns the tricks of the trade by reading the log books scattered throughout the trail and hiking with a goofball "comic relief" character named "Slackpack". She finds that she is having a strong connection with Rollin, one of the hikers leaving notes in the log book. A crush begins, she sets off to find Rollin and the rest of the film is her hiking with this mysterious man through the rest of the Appalachian Trail. We see the relationship build and ultimately fall as is the life on the mountainous trail. The story was surprisingly good as was the acting. I would have liked to have seen more of the trail and their journey. The movie seemed to have skipped an entire season (Winter), which would have been interesting to see. I suppose the filmmakers couldn't film in those conditions. All in all it was a surprisingly well made film. I enjoyed it and made me want to go hike the AT, so I suppose they accomplished what they set out to do.
CinemaPat Reviews
I am a big fan of books about AT through hiker's journeys and enjoyed living vicariously during this one even with the bad acting.
Tammie Kaufman
Southbounders Quotes
There are no approved quotes yet for this movie.