Southlander: Diary of a Desperate Musician
(2001)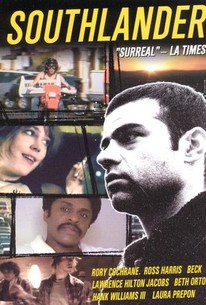 Southlander: Diary of a Desperate Musician Videos
Southlander: Diary of a Desperate Musician Photos
Movie Info
Rory Cochrane stars as Chance, a musician who loses his extremely rare magical synthesizer which takes the form of a white 1969 Moletron keyboard. He looks for it by wandering around a de-glamorised Southern California with pal Rossangeles (co-writer Ross Harris from DJ Me DJ You and Sukia). They sometimes find clues in the local classified newspaper called the Southlander, which leads them to meet interesting folks.Their adventures eventually lead them to the home of former funk legend-turned-tennis player Mother Child (Lawrence Hilton-Jacobs from Welcome Back Kotter) and his blonde girlfriend Snowbunny (Meghan Gallagher). Beth Orton stars as Chance's love interest Rocket and the leader of the band Future Pigeon. Beck plays Bek, his younger pre-stardom self, back when he was into drugs and recording music by himself in a shack. Also starring Ione Skye, Hank Williams III, Richard Edson, and Elliott Smith. Southlander was shown at the 2001 South by Southwest Film Festival.
Rating:
NR
Genre:
, , ,
Directed By:
Written By:
In Theaters:
On DVD:
Runtime:
Studio:
Critic Reviews for Southlander: Diary of a Desperate Musician
Audience Reviews for Southlander: Diary of a Desperate Musician
This is another one of my impulse buys. I got it on the internet. It was released...I don't even know when. October 2003, maybe? Anyway, it's not a very good movie. It's quirky but the storyline drags a bit in the middle. Beth Orton is beautiful and enchanting but she's in the movie for only a few minutes. Really the only reason I got the movie is because Beck is in it. Anyone who has seen him live knows that he is funny, satirical...I dunno. But he does a GREAT job playing an early-mid-nineties Beck. He's hilarious. Anyway, not too great but funny. Some familiar faces are in it too. Laura Prepon (of [i]That 70's Show[/i]) the guy who played Freddy "Boom-Boom" Washington on [i]Welcome Back Kotter[/i] and the crazy guy who stole Cameron's car in [i]Ferris Bueller's Day Off[/i]. If you see it in the video store and can't decide on anything, pick it up...If you're a big Beck fan...and don't blame me if you don't like it. Giant Robot factor: 10 familiar faces factor: 9 Hank Williams III factor: 10-4
Emily Reeve
½
I really really wanted to like this movie, but I don't think I was able to give it the attention it needed. The cameos and soundtrack are very fun. Some of the acting is good, and there are some smart moments. All of this made it more painful when it failed to reach the level it could have.
K M
Southlander: Diary of a Desperate Musician Quotes
There are no approved quotes yet for this movie.