Spacebabes Meet the Monsters
(2003)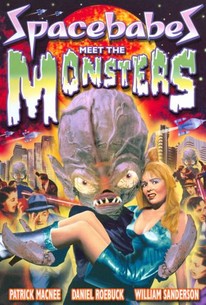 AUDIENCE SCORE
Critic Consensus: No consensus yet.
Movie Info
Patrick Macnee, Daniel Roebuck, and William Sanderson headline this kitschy sci-fi yarn about a trip through time gone horribly awry. A scheming professor is convinced that he can save mankind by traveling into the future, but in order to accomplish his benevolent mission he'll need some serious help. After convincing a group of down-and-out astronauts to take the trip, the professor and his trusty gorilla sidekick prepare to launch themselves into the future. But the Earth of the future bears little resemblance to the planet of the present, because in the future mankind has fallen victim to a cosmic plague, and a beautiful race of space babes reign with brutal authority. Add a horrible monster and an army of mutants into the mix, and it begins to appear that the professor's noble mission was doomed to failure all along.
Critic Reviews for Spacebabes Meet the Monsters
There are no critic reviews yet for Spacebabes Meet the Monsters. Keep checking Rotten Tomatoes for updates!
Audience Reviews for Spacebabes Meet the Monsters
Space Babes Meet the Monsters attempts to be one of those 50's B-movie throwbacks where three former astronauts are sent through time into the future to a desolate wasteland of sorts where monsters roam the deserts, as well as mutated marauder men and bikini clad space babes. A couple of familiar faces show up, namely Daniel Roebuck (Halloween 2), Duane Whitaker (Pulp Fiction), Patrick Macnee, and William Sanderson. Unlucky for us, this film is horribly made and extremely unfunny, especially since it's attempt throughout 100% of the movie was to be funny. At NO point in this film is it funny...or even remotely amusing. Lucky for us, however, is the film's running time, which barely reaches 45 minutes. This unexpected running time (it may seem longer because they throw all the special features up after the credits) made for a quick removal of this film from my DVD player and a solemn prayer to myself that I never watch this film again, or anything else by its creators. A complete waste of my time, and this is coming from someone who adores these kinds of films.
Jason Duron
Great example of not how you do a campy tribute to the 50's and 60's alien flicks. Crappy ? at least its short as hell.
D M
½
Three unemployed astronauts become test pilots for a time machine. Traveling what is presumed to be 1,000 years into the future, they meet monsters, mutants and space babes. "Space Babes Meet the Monsters" is a short film that was made as a spoof of kids' adventure films from the 1940s and 1950s. The packaging and marketing that went into the DVD release of this 45-minute short film is another excellent job on the part of Alpha Video. It's too bad the marketing efforts were wasted on such a poor movie... although, given that they got my attention, Isuppose they weren't really wasted! I don't mind low budget, but "Space Babes" is TOO low budget, both in the writing, the acting, the costuming... just about anything you care to mention about this film is painfully cheap. So painfully cheap that I think even Edward D. Wood, Jr. (whose name must have been evoked multiple times while this film was being worked on) would probably have cringed if this had been his movie. (Yes, I know this is a homage/spoof of films like the one Wood used to make, so my comment may not be entirely fair.) The only things that weren't weak about this film was the mutant make-up--the make-up artists actually did a better job than I would have expected given everything else in this film--and the appearance of Patrick Macnee. Macnee manages to add a little bit of class to this film, even if the outtakes on DVD make me think that he showed up in the studio not knowing the details about what he was there for or even his lines; the outtake with Macnee sounds like a cold reading of material that he was seeing on a teleprompter for the first time, complete with the odd inflections and pauses that implies. And then there's the tie-in song penned and peformed by Frank Black and Joey Santiago from The Pixies, "My Name is Gary". This song is fitting for the film, as it has a feel of having been written on the back of a cocktail napkin. As little as I like the main attraction on the DVD, I will grant that Alpha Video has put together a nice package... especially when one considers that it costs less than [URL=http://www.amazon.com/gp/product/B001AOW6MU?ie=UTF8&tag=stevemillesdo-20&linkCode=as2&camp=1789&creative=9325&creativeASIN=B001AOW6MU]$8 if ordered from Amazon.com[/URL] . Aside from "Sapce Babes Meet the Monsters" the Alpha Video disc contains a couple of avant-garde films--a weird little sci-fi/horror flick titled "The Walking Ink" about a mechanic who developes strange powers from eating a hybridized chili pepper; and "The Story of Time", which is probably one of most interesting ads-masquerading-as-film that I've ever seen, where a Timex-sponsored animation tells the history of time-keeping where the Timex wristwatch ends up as the ultimate acheivement in that arena. While "Space Babes Meet the Monsters" isn't anything spectacular, the material included with it on the DVD is definately worth a look. And, since the price is right, I recommend checking it out if you have an interest in experimental short films. Just save the headlining film for last. Space Babes Meet the Monsters (aka "The Low Budget Time Machine") Starring: Patrick Macnee, Peter Gardner, John Norris, Daniel Roebuck, James Keane, Jean Black, Sammy Zax, William Sanderson and Dani K. Director: Kathe Duba-Barnett
Steve Miller
Spacebabes Meet the Monsters Quotes
There are no approved quotes yet for this movie.
Discussion Forum
Discuss Spacebabes Meet the Monsters on our Movie forum!