The Spartans
(1996)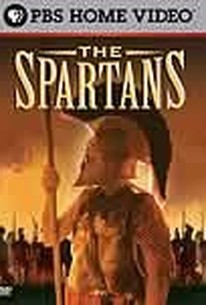 AUDIENCE SCORE
Critic Consensus: No consensus yet.
Critic Reviews for The Spartans
There are no critic reviews yet for The Spartans. Keep checking Rotten Tomatoes for updates!
Audience Reviews for The Spartans
This is a very well done, well-told detailed [b]historic documentary of the Spartans[/b]. [b]You'll learn the truth about them[/b]. [b]Historian and scholar Bettany Hughes[/b] is what also makes this a great documentary. There is some reenactment such as how the Spartans looked and how they fought but not to the point like some documentaries like "[b]Battlefield Britain[/b]" or "[b]The War That Made America[/b]". But I didn't have a problem with that. Reviewers at Amazon.com think they know what there talking about. They thought they were going to see some movie here. Gay hating people who can't take the truth over there even refuse to believe that not only did Spartan men have sex with other men but a lot of Greeks did. I didn't know they were historians and scholars themselves. Anyone who finds this stuff boring should just completely give-up on learning about history altogether. There's even one person over at Amazon.com that did very much like the documentary... but said that it failed... that it should have talked about......... the rise of the Macedonian powers and the fall of the various Greek city-leagues to Phillip II and his son Alexander the Great......... to that reviewer I say this... it did talk a little bit about other Empires that would come to rule Greece but this documentary was about the "Spartans"... it was not about the Macedonians and it was not about Alexander the Great. If you want to learn about the Macedonians and Alexander the Great then go and watch documentaries about them... it's that simply. So your so-called "failed" makes no sense. And that's the problem with some people like that. When people who watch documentaries like this they think that there going to talk about all of Greece......... it says right on the cover "The Spartans". It's not about the Macedonians, not about the Thespians, and it's not about Alexander the Great. The 1962 movie The 300 Spartan is not only inaccurate but also badly acted and the so-called action scenes are very badly preformed. The movie makes them look heroic and noble......... well, as one will learn from this documentary, they were far from being heroes. [b]It is truly just too sad that people even in this day and age will believe Hollywood movies and video games to be historic rather than historic Documentaries from real historians and scholars. They again the stupid people outnumber the smart people on this planet[/b]. [b]People who watch "300" and play video games like "God Of War" and "Spartan: Total Warrior" do find this to be a lie[/b]. [b]I've seen people say that[/b]. People at IMDB.com, Youtube, and Wikipedia are proof of that. [b]Those people are proof that murders get turned into heroes[/b].
Rick Raven
½
This is a mildy interesting docu that occasionally comes up with something interesting about the Spartans of the Classical Greece period. Bettany Hughes narrates and adds some color to the otherwise static shots of Greek ruins and battle sites. A major problem with doing anything lengthy about the Spartans is they left virtually no written materials, relatively few artifacts and not much else. So a lot of what we know about them was written by their enemies, such as classical Athens, Sparta's principal rival. The docu doesn't exactly say it but it has a lot to do with why it spends a fair amount of time talking about Athens and not Sparta. What is well-known is that Sparta aspired to the perfect state through a system of breeding the perfect warrior. Most remembered and immortalized for the 300 Spartans' defense at Thermopylai, for a time they were the class act on the battlefields of old, their matchless discipline much admired by later civs who cherry-picked elements of the Spartan philosophy. Spartan women had far more freedom and influence than females in any other classical civ. That Sparta also had a crude eugenics program via a particularly ruthless form of infanticide, roaming terror squads that killed anyone remotely an enemy of the state, and enslaved fellow Greeks to free themselves of labor are less admirable elements of their extreme culture. After a long decline, they never recovered after they lost their slave-based economy. The production is pretty low budget with a camera following Hughes in her funky vehicle, with a little drama added with some reenactors marching around as Greek hoplites. I always thought their helmets were cool :cool: Anyone needing an Antiquity fix or in need some elective CEU's you could do worse. Its' all 4:3 and mono.
Walt Huber
½
Very interesting, however, both somewhat glorify the spartan soldiers. We must remember that these men trained so intensively because they had a 90 percent slave population. They were affraid of revolt, and rarely moved their armies from their city, hence their being afraid!
Kyle Barnett
Discussion Forum
Discuss The Spartans on our Movie forum!
News & Features