Special
(2006)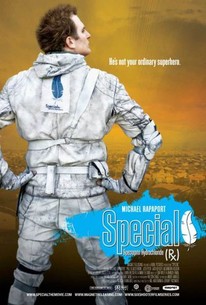 TOMATOMETER
AUDIENCE SCORE
Critic Consensus: This quirky indie comedy's low budget is readily apparent, but it's elevated by Michael Rapaport's dedicated performance.
Movie Info
Les Franken is a kind-hearted and soft-spoken man who loves reading comic books. He's the type of guy who most people walk by on the street without even noticing; in essence, he's completely average and virtually invisible. However, everything changes for Les the day he is accepted into an experimental drug study for a new and exciting anti-depressant, Specioprin Hydrochloride. As Les begins to take the drugs an unexpected side effect occurs--he begins to develop special powers: the ability to levitate, to read peoples' minds, and even walk through walls. Faced with the dilemma of how best to utilize his new "powers," the answer seems obvious to Les. He puts together a homemade superhero suit and hits the streets to fight crime and protect the world from the forces of evil. Surveillance video soon exposes Les and his actions to the public via television news and therefore brings him to the attention of the businessmen developing the drug. Worried about the bad publicity Les is bringing to their new anti-depressant, they attempt to put an end to his superhero antics before too much damage is done. However, in typical comic book fashion, Les sees the men from the drug company as his evil arch nemeses--"The Suits"--men who want him to join them in their evil plan to use 'Special' to create an army of unstoppable assassins. Les refuses to play ball.
People Who Like this movie also like
News & Interviews for Special
Critic Reviews for Special
Audience Reviews for Special
½
What happens when a parking meter cop with low self-esteem gets super powers? What if he just believes he has super powers even though they're just hallucinations? It's kind of a funny premise, and with a target as big as the modern pharmaceutical industry, you think it'd be rife with wicked satire, but "Special" is more content to be a psychological study of an insecure man on the verge of madness. Les (Michael Rapaport) is a mild-mannered loser who signs up for an experimental new drug designed to boost self-confidence. The drug works wonders for most in the test group, but for Les, a man obsessed with comic books and super heroes, it gives him the illusion he's garnered some new and unique super powers of his own, which he, of course, must use to combat evil wherever he may find it (usually at the local convenience store). The financial backers of this new wonder drug find out about Les' super hero adventuring, mainly due to him wearing their logo on the back of his homemade superhero suit, and are displeased to see some nut scaring off the pharmaceutical company they were hoping to sell it to, and so they begin to try and hush him up (which only serves to fuel his paranoia). As I said, it's a movie detailing a man's descent into madness, and while is has moments of comedy, it's very dark to be sure. Filmed on an obviously tight budget, the filmmakers make the most of what money they have to use. The movie really isn't bad, that is, until the final act, where they kind of lose focus (and steam). The ending is a bit of a mess. Still, it's not a bad attempt at a movie.
Devon Bott
Super Reviewer
½
A nerdy, social misfit volunteers for an experimental medical study of a new drug and discovers that the pills give him super powers. Back in high school I knew this guy who was kinda tall, had curly red hair, freckles, and was a total prick. Michael Rapaport looks a lot like that guy. Now, that's not Michael Rapaport's fault, but every time I see him, in my mind, I see that other ass-hole. Why, you ask, am I telling you this? Because for me to say that Michael Rapaport is good in anything he has to be really (REALLY) good. In this film, he's good.
Randy Tippy
Super Reviewer
½
A churning, dark drama that inexplicably bills itself as satirical or humorous. The concept: to play out dark psychological drama against a paper-thin backdrop of comic-book heroism is jarring to say the least... especially when the self-importance of such a backdrop is continually torn and punctured by the presence of the reality underneath it all. This isn't a film about a superhero dealing with being human, or a human trying to be a superhero. In the end, its an average human dealing with being human and getting very messed up in the process. Sadly, the plot is riddled with holes, and a small array of cinematic stylizations that eventually wear a bit thin. It takes a bit of effort to see past the low-budgeted hurdles... but such effort is rewarded with a glimpse of the inspired acting by Rapaport (the film beautifully abuses his nice-guy persona) as well as the simple yet grittily accented story underneath it all. A unique presentation of a depressing concept, which falters more often than it flies. Yet unlike other films, whose failures confuse or anger, one can clearly see (and enjoy) the film that lies beneath the blemishes. That achievement alone is something to be celebrated, and is the essence of independent film-making.
Daniel Hetteix
Super Reviewer
Special Quotes
There are no approved quotes yet for this movie.