The Specials
(2000)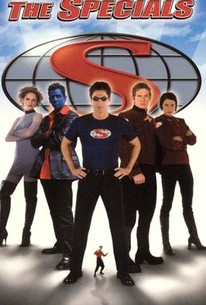 Movie Info
A satire of comic-book superheroes in the same vein as the 1999 Mystery Men, The Specials is set in a parallel universe where gangs of superheroes regularly compete against one another for glory or, failing that, flattering action-figure likenesses. The Specials are one of these gangs, and not a very good one at that. Composed of the Weevil (Rob Lowe), the group's most popular member, Amok (Jamie Kennedy), a potty-mouthed shape-shifter, group leader Strobe (Thomas Haden Church), and the constantly growing or shrinking Minute Man (James Gunn), the Specials are more concerned with their image than in actually doing anything heroic.
People Who Like this movie also like
News & Interviews for The Specials
Critic Reviews for The Specials
Audience Reviews for The Specials
½
funny for a while but the satire runs its course quickly. you remember this after you finish it sadly
Brendan Nicholls
Super Reviewer
A good parody of superhero groups and how they would exist in real life.  James Gunn obviously has quite a lot of knowledge on the superhero genre, and a good sense of humour to boot.  Watch on a double bill with the excellent Special for a fantastic superhero-parodyathon.
Christopher Brown
Super Reviewer
A day in the life of a band of rubbish superheroes. While I'll admit this probably had a budget of about 74 dollars, it's still pretty woeful and unfunny, and a bit boring, and quite predictable and pointless too. The star is for Deadly Girl who has the only decent line: "What's the difference between a child and a skeleton? The child doesn't try and eat the soft parts of your face while you're asleep". Otherwise, stick with Mystery Men for your lame superheroes movie fix.
Marcus Woolcott
Super Reviewer
The Specials Quotes
There are no approved quotes yet for this movie.