Spectacular!
(2009)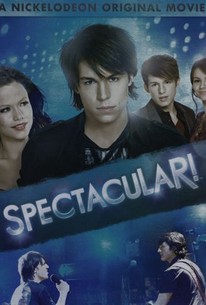 AUDIENCE SCORE
Critic Consensus: No consensus yet.
Movie Info
Nolan Funk, Tammin Sursok, and Victoria Justice headline this Nickelodeon Original Movie about a bad-boy rock star who helps a goodie-two-shoes choirgirl sing her way to the national championships. Nikko (Funk) has just been ousted from his band. He thought he was on his way to musical superstardom, but now he's got to start over from square one. Enter Courtney (Sursok), an ambitious choirgirl who's just formed a new singing group that's in desperate need of a male vocalist. At first Nikko and Courtney have little in common, though before long they've bonded in a bid to win the national championships right out from under the nose of Courtney's catty nemesis Tammi (Justice), who isn't above cheating to take top prize. ~ Jason Buchanan, Rovi
Audience Reviews for Spectacular!
½
From Nickelodeon, the studio that brought you M. Night's "The Last Airbender" and a film franchise base on annoying internet sensation Fred presents "Spectacular". That sentence alone is an immediate turn off and while "Spectacular" is nowhere as awful as what Nickelodeon has produced in the past. "Spectacular" is a uninspired music film with little effort put into it. Spectacular is about wannabe rock singer Nikko being convinced to join the choir, in hopes of winning the upcoming competition and obtaining a record deal. That's the whole plot in that summarization which is not enough to carry a film. The plot suffers from having little conflicts and devoid of any substantial subplots. Making room for a cast of undeveloped stock characters and plot points that lead nowhere. One main character is not that important who only serves to create drama and to be a love interest. Worst being the film is about Nikko overcoming odds to reach his dream yet doesn't face any real obstacles. Right from the get go he has an audition for a music producer and when he gets kick out of one his band there is another one he easily gets into. A film where the protagonist has no type of conflict even minor ones is not that interesting or accurately portrays the difficulty of being a professional singer. Despite being in high school I still can't imagine any teenagers wanting to called their band "Spectacular", "Ta-Da", "Glamour Gang", and "Sparkle Factory". I mean this is a bit too unrealistic for me. In my high school we had bands called "420", "Free Beer", "Burger Axe", and my short live band was called "Band". If those band names gave you a laugh that's good for I just provided you more humor than this flick. So how's the cast? Like Nolan Gerard Funk sings in a song, watching the cast is so boring and typical. Our lead Nolan Funk has charisma, but the material gives him little to work with. He comes off as a slacker who overreacts when something does not go his way. Other cast members either have little screen time and when they are on screen don't do much to leave an impression. There's one almost amusing scene where two choirboy attempt to trash talk, though this being Nickelodeon the dialogue is idiotic. As for the music when it plays on film it create contrivances. Like Nikko would just turn on some recording equipment and music that have no singers would play by sheer luck. There is one instance where a radio just turns on by itself. Also not one musical number goes uninterrupted. Sure some of the songs have lyrics so cheesy it might attract mouses, but I would like to hear the songs without someone talking. Not to forget the laziness of repeating songs for than once. Though I do have a good feeling even Nickelodeon knew how bad their music was that a fictional reviewer criticize the band for their dancing being by the numbers. That's another problem with this clearly having a low budget the dancing choreography has little to do. It's clearly limited with the sets that leave little to the imagination. The pacing too is problematic since I can't recall one moment it remained silent. The soundtrack (yes, I'm still bashing this) contains ten "original" songs and two cover tracks. I'll talk about the cover tracks first. Both "Eye of the Tiger" by Survivor and "Things We Do Love" by 10cc are lyrically the best. Using metaphors get across a simple message and leaving room to decipher them. The composition on the cover tracks are the same to the original songs with a more upbeat chord and inferior vocals. Earlier I did say "original" when it came it to the music. The soundtrack as a whole is lazy and uninspired. Repeating themes one song has already cover. The tracks "Don't Tell Me" and "On Your Way" send the same message and both are too direct in what they say. When a song begins with the verse "Fit in or standout? Not a hard decision" and follows it up with "Just do what you like" it becomes redundant to present options in the beginning with the song continuing to tell people to be themselves. Not a bad a message, but failed to realize their are teenagers who just want to fit in. Even the titles of the songs are bland. I can guarantee you know what the songs "Break My Heart" and "Something To Believe In" are about without having to listen to them. Also, why is a song about breaking hearts listed earlier before "For the First Time", a song about two couple meeting for the first time. In the movie it makes sense, but albums usually list songs in a specific order to tell a story or offer reflection on personal experiences. The one exception on the soundtrack is "Everything Can Change". Like the other "original" tracks it's too simple in delivery its message, but feels the most effort was put into it. Sending a message about taking advantage of the opportunity you're given like listening to better music and watching some good television. Nickelodeon astonishing lack of effort that went into this is hard to comprehend. We have two filler tracks on this soundtrack about dancing. These two tracks have nothing to say and are the most forgettable on a repetitive soundtrack with songs that sound similar. What this means is Nickelodeon put about 10% percent of effort into their original music. I know their will some users thinking I'm too harsh on something aimed at teenagers but here is my reason. Simply because it's not aimed at me does not mean I should expect any less of it. Pixar films are targeted mostly towards family, but are made in mind that any kind of audience can enjoy it. If I choose to watch a film about talking fish by myself than Pixar did something right. If Nickelodeon made a bland music film aims towards teenager that'll likely forget it existence in a couple of minutes than what makes you think anyone else will enjoy it. Spectacular is an uninspired teen music film while watchable is entirely forgettable within minutes. Nickelodeon has found success among the teen demographic, though when it comes to quality they have little interest on. With repetitive music that always get interrupted, clearly limited resources on dance choreography, a cast that is given little to work of on, and a thin plot better suited for an episode of sitcom "Spectacular" fails to live up to the title being just your average uninspired music film.
Caesar Mendez
Super Reviewer
I absolutely love it! It's funny, it's cute and it has good music. Especially Nolan Funk is GREAT! What a SPECTACULAR movie!
l i n d a
This was surprisngly hard to rate. PLOT:When aspiring rockstar Nikko (Nolan Gerard Funk) is kicked out of his band and dumped by his girlfriend, he's offered a spot in the local school jazz choir by the leader, Courtney (Tammin Sursock), who has also lost a member to the rival choir, Ta-Da. He turns down the offer until he finds he has a shot at a recording contract if he gets a rockin' demo and a lot of money. He then agrees to join the choir if he splits half of the money, but he begins to grow a love for the choir as he helps it break free and the other members to figure out their true talents. It's the poor-teenager's version of School of Rock, and is executed decently, but not greatly. ACTING:Most of it's mediocre to the cheesy max. The only performances worth mentioning are the two leads, Funk and Sursock. Funk was the only great actor out of the bunch. He did an excellent job compared to the rest of the cast. Most of the time Sursock over-acted, but she could show emotion well, just not regular acting. SOUNDTRACK:Most of the songs are just teen pop trash, but some of them shine through as the gems of the soundtrack. "Break My Heart", Eye of the Tiger", and "Something to Believe In" are the ones I have in mind. OTHER CONTENT:The choreography in the song numbers showed a clear comparison between order and freedom, as to make the audience feel and notice who is better and what might just happen. This movie was so difficult to rate because compared to the majority of trash I've seen, this is not as bad. It's actually partway decent. It definitely has its flaws, but it's not the worst thing I've seen. OVERALL,a movie that's not that bad with a formulaic plot, mainly mediocre acting, teen pop trash soundtrack with its gems, and great choreography twists. Compared to some of the trash I've seen, this isn't that bad.
Kendall Irwin
Spectacular! Quotes
There are no approved quotes yet for this movie.
Discussion Forum
Discuss Spectacular! on our Movie forum!