Spectral
(2016)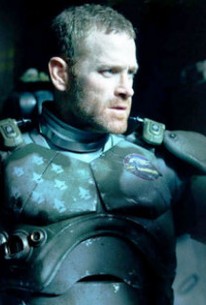 Movie Info
Soldiers contend with a supernatural enemy more powerful than any mortal in this Legendary production starring Emily Mortimer, James Badge Dale, Max Martini and Cory Hardrict. ~ Jason Buchanan, Rovi
News & Interviews for Spectral
Critic Reviews for Spectral
Audience Reviews for Spectral
The premise of mixing a war film and a ghost movie is actually pretty cool. The look and effects of the film are, too. It never feels cheap and delivers great action. Unfortunately the ghosts lose their horror appeal the more often they appear on screen. The showdown is still pretty exciting and spectacular but takes the CGI opponents a little too far. Sure, the film borrows from Aliens, Black Hawk Down and Edge of Tomorrow but the mix feels fresh enough and makes for decent entertainment. No more and no less.
½
The premise is interesting and the visual effects are very good, but the plot is absurd and full of holes (the series of expository explanations in the end makes very little sense when you stop to think about it), feeling more like video game action than smart science fiction.
Carlos Magalhães
Super Reviewer
You know what separates us from one another, identifiable characteristics. While there may be someone that looks like me on this earth, or several people for that matter, the fact of the matter is that we all have different facial features, voices, bodies, personalities, etc. The reason I bring this up is because movies are exactly the same way, perhaps more limited in terms of variety when compared to humans, but you get what I'm trying to suggest. While there are films that are very similar to each other, they vary in the way they are written, how they are made and the cast that is in them. The point I'm trying to make is that there is literally nothing about this movie that stands out. Absolutely nothing. I know I've complained before about movies that are bland and dull, but this is really just at another level of blandness and uninteresting. And it's not even that I think the movie is bad, because it's not, it's competently made at best, but it just gets on by with the absolute basics. There's no actual exploration of any relevant or interesting themes the film might possess. Whether from the angle of what war does to those that can't defend themselves, or the lengths people go to to win these wars. Those are some interesting ideas that they do nothing with, instead of just doing the bare minimum that is required to make sci-fi/war film. And the fact of the matter is that the action really isn't even that interesting, there's no weight to anything, nothing really sticks or stands out in any particular way. Part of that is that you literally do not care for any of the characters whatsoever. The soldiers in the film are as faceless and as nameless as it gets and, given that I just watched this movie yesterday, I cannot remember the name of any of the characters. Soldiers or not. Actually I remember a little kid named Bogdan. The only reason I remember that is because Walter White's boss at the car wash at the beginning of Breaking Bad is named Bogdan. So, yes, the only character I remembered was because it reminded me of the best television series I have ever had the pleasure of watching. I also remember that Bogdan, who dies, has a little sister who, at the end of the movie, is fine as if nothing had actually happened. The deaths in this movie just graze the characters in the film. No one important really dies, so it's hard to really be affected or to get a sense of the 'horrors of war' when none of the characters that die have discernible personalities. It's all the soldier cliches you've seen a million times before. The soldiers aren't receptive of the new people that are coming on a mission with them, but they eventually grow to respect them. Like I said, you've seen it before and will continue to see it until the end of time. The special effects are fine, but nothing to really write home about. I don't know what else to say about this, Netflix needs to start spending their money on quality films, though I get what they're trying to do. The more original content they have the more subscriptions they can get to their website. But, eventually, if the quality does not pick up, which is the complete opposite of their scripted series (which have been consistently strong), I think people will realize it and having original movies aren't gonna be that much of a selling point. But that's just me. Partnering up with Adam Sandler isn't doing them any favors, but that's irrelevant. Anyway, the point of this all is that this movie is just about the blandest experience I've had watching a movie in a long time. And it's even worse when you consider that this is a sci-fi/war film. you'd think that if there was a genre where you could take a chance, at least if you're still trying to make something that casual audiences can get into, it'd be this one. But they don't. That's about it, really. Not a bad movie, just an uninteresting one that lacks any sort of personality.
Jesse Ortega
Super Reviewer
Spectral Quotes
There are no approved quotes yet for this movie.
Discussion Forum
Discuss Spectral on our Movie forum!