Speedway Junky
(2002)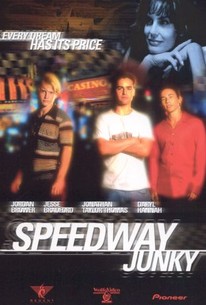 Movie Info
In this gritty drama executive-produced by Gus Van Sant, a teenaged would-be stock-car driver gets more than he bargained for when he makes a pit stop in Las Vegas to earn a little cash. Almost as soon as he arrives in the city, high-school dropout Johnny (Jesse Bradford) finds himself victimized at the slot machines by a slick little vixen. His journey to glory on the racetrack thus sidetracked, he soon falls in with a group of hoods and street urchins. Befriended by solicitous hustler Steven (Jordan Brower) and condescended to by gay-for-pay stud Eric (Jonathan Taylor Thomas), Johnny gets a quick introduction to the sleazy Vegas landscape. At first he rejects his new acquaintances, but after a disastrous liaison with a buxom young lady (Tiffani-Amber Thiessen), he finds himself the reluctant new best friend of the besotted Steven. Adamantly professing his own heterosexuality, Johnny tries to find female clients to bankroll his ticket out of town. But soon Eric arrives, promising big bucks from his wealthy male patrons, setting the stage for conflict with Steven and unexpected bloodshed. Shown during the Panorama program at the 1999 International Berlin Film Festival, Speedway Junky was the debut feature from writer/director Nickolas Perry. Daryl Hannah co-stars as an older ex-prostitute who serves as a sort of foster mother for both Johnny and Steven. The film also marked the acting debut of musical artist Warren G and features a cameo appearance from Patsy Kensit.
Critic Reviews for Speedway Junky
Audience Reviews for Speedway Junky
I'll admit it, I only rented this DVD because Jonathan Taylor Thomas was in it, and I loved him when I was a kid. I couldn't picture him pulling off this role, and I expected a massive train wreck. Color me surprised! This is probably the best acting I've ever seen from him, and the movie as a whole is deep and emotional. I wish this film had gotten the attention it deserved.
Amanda Hendsbee
My friend Dylan let us borrow this film. We had heard a few things about it, and were interested to see Jonathan Taylor Thomas as a street hustler. The problem with that is...well, his voice hasn't changed since he was Simba in [i]The Lion King[/i]. Even when he's swearing a stream, it sounds wholesome. The film follows Johnny's (Jesse Bradford playing 18 when he's WHAT? 30!!) quest to be a racecar driver. From the way this plot evolves, it seems that his only real experience with race cars involves video games, so I'm not sure where he thinks he's going to find practical experience with racing in Vegas. The only light in this bleak, poorly written, over-acted crapfest is Jordan Brower (Eric). He was the best thing in this film, and it should have been his story that we were listening to. He seemed to be the only interesting character in the entire film. Jonathan Taylor Thomas was only in the film briefly. I think he was only hired for the curiosity factor. I expected a lot more from a film exec produced by Gus Van Sant, but it is just a Tiger Beat version of [i]My Own Private Idaho[/i]. It's unfortunate that Gus had to get himself involved in this mess. The friendship between Johnny (straight) and Eric (gay) seems contrived. Jordan Brower does his best, but it's unbelievably that Johnny Homophobe all of a sudden is ok with his new gay friend. The movie could at least have the decency to be comfortable with its subject matter before it tries, unsuccessfully, to explain it to others. -Heather
Heather Hughes
I hate Jesse Bradford but the overall message and theme here is wonderous, not to mention it's great to see some actors that you grew up watching
Mike D
Speedway Junky Quotes
There are no approved quotes yet for this movie.
Discussion Forum
Discuss Speedway Junky on our Movie forum!