Spiderhole
(2011)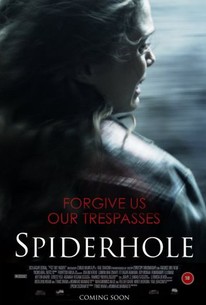 Movie Info
An attractive, vivacious young artist, Molly, together with her three art student friends, embarks upon a mission to find an empty house in London, with the view to living as squatters, free from rent, and free to party. Having found the ideal squat, they break in and go about the merry business of dressing the stark interior to reflect their artistic selves. Darkness pervades their new dwelling place, a darkness through which they discover the full implications of their intrepid choice. A nightmare unfolds that traps the viewer and protagonists alike in a terrifying and unforgiving new reality. Who or what is orchestrating their bloody demise and why? The house appeared to be empty and yet a malevolent force is clearly at work. -- (C) IFC Films
Rating:
NR
Genre:
, ,
Directed By:
Written By:
In Theaters:
On DVD:
Runtime:
Studio:
Critic Reviews for Spiderhole
Audience Reviews for Spiderhole
One line summary: Stoner squatter thieves search for and find their own damnation. ---------------------------------------------------------------------------------- Four homeless art students squat in a supposedly abandoned London house. Things go well for a while. The windows and doors look covered with old boards, which should be no problem to break into. The place has been abandoned for a number of years, and not everything works right at first. They discover some old clothes with fresh blood on them. That does not seem to set off their sense of danger. The next morning, joy turns to despair quickly enough. The windows covered with boards had solid metal beneath the boards; the back door was the same. The front door, which Toby so carefully broke into and re-engineered the previous night, has been bolted down with solid metal. Toby's tool box has gone missing, as has every cell phone they had. They try to get the attention of the police outside who are looking over there 'borrowed' van. Hm. The cops cannot hear them. The captor gasses them, then takes Toby away. The rest look for him, but have little success at first. Their captor ties up Zoe as well, then the torture segment starts. Luke and Molly think they have the drop on their captor. They end up killing Toby instead. Then the captor gasses them. He saws off Zoe's lower legs, then turns his attention to Luke and Molly. Molly manages to get free, and strikes her captor with an iron rod, but only once. She leaves that to chance. Molly finds what is left of Luke, then tries to find an exit, now that she has a set of keys. She also finds the captor's back-story which tells partially why he keeps repeating all the torture. Does Molly make it out alive? ---------Scores-------- Cinematography: 10/10 Love the 2.35 aspect ratio. This picture starts out beautifully on the visuals, and continues that way. Sound: 10/10 Creepy, good tracks, well chosen and recorded. Acting: 5/10 Could have been a lot better. Screenplay: 8/10 Tells a story, and does it fairly well.
Ed Collins
½
Spiderhole (Daniel Simpson, 2010) Generic torture-porn dreck that I can't even say really tries for anything interesting. Four art-school chums (The Hole's Emma Griffiths Malin, The Illusionist's Reuben-Henry Briggs, and two newcomers, George Maguire and Amy Noble), presumably to save money on dorm fees, decide to spend a semester as squatters in an abandoned building. All well and good, unless someone-or something-is already there when you show up... the movie makes an attempt to build suspense as to who or what is offing our unrelatable, unlikable foursome, but it fails pretty miserably; there are no hooks here that will make you care one way or the other. When you can't identify with anyone in a movie because the script is doing its best to make you despise everyone in it, something went seriously wrong somewhere along the way. * 1/2
Robert Beveridge
In London, four friends are homeless and decide to squat in a house. They find what they think to be the perfect abandoned home, but soon after moving in, they find out they're not the only tenants there - and the one occupying it already doesn't want roommates. I liked the overall general concept of the film, but it fell flat almost immediately. The kids are drugged and when they come to all the windows and doors are bolted with steel and their cell phones are gone, and they end up turning on one another, and basically becoming one complete hot mess. Even the "last girl" wasn't that smart. She had the killer right where she wanted him, and instead of killing him and fleeing, she smacks him on the head and runs off. Not to mention there wasn't really a single person I was rooting for, I found the film to be a typical horror flick that will be easily forgotten.
Joe James
Spiderhole Quotes
There are no approved quotes yet for this movie.
Discussion Forum
Discuss Spiderhole on our Movie forum!