Spider-Man 3
(2007)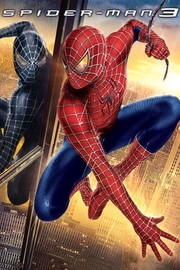 TOMATOMETER
AUDIENCE SCORE
Critic Consensus: Though there are more characters and plotlines, and the action sequences still dazzle, Spider-Man 3 nonetheless isn't quite as refined as the first two.
Spider-Man 3 Trailers & Photos
Movie Info
Your friendly neighborhood web-slinger is back, only this time his sunny outlook has become partially overcast in the third chapter of director Sam Raimi's Spider-Man saga. Tobey Maguire, Kirsten Dunst, and James Franco return to reprise their roles from the previous two installments, with Thomas Haden Church, Topher Grace, and Bryce Dallas Howard making their first appearances in the series as Flint Marko (aka Sandman), Eddie Brock (aka Venom), and Gwen Stacy, respectively. Peter Parker (Maguire) has finally leaned to walk the middle ground between being the superhero that his city needs and the man that Mary Jane (Dunst) loves. All is well in New York City until one night, as Peter and M.J. sit gazing at the stars, a falling comet streams across the sky and crashes into the ground close by. But this isn't any ordinary shooting star, and upon impact the mysterious space rock is split open to reveal a shape-shifting symbiote with the power to overtake anything that it comes into contact with. Later, as Harry Osborn (James Franco) acquires his late father's flying board, engineers a powerful new Goblin outfit, and takes to the sky to avenge dad's death, the mysterious space sludge infects both Peter's Spider-Man suit and ambitious street photographer Eddie Brock (Grace). Peter's strange new suit gives him a newfound sense of power as it gradually overpowers his personality, and he discovers that escaped convict Flint Marko was in fact the man responsible for the death of Uncle Ben (Cliff Robertson). Unfortunately for Peter, Marko has recently acquired the power to morph at will and quickly completes his transformation into the dreaded Sandman. As the Sandman gives in to his darkest criminal instincts and the slithering space symbiote transforms Eddie Brock into the nightmarish fanged villain known as Venom, the citizens of New York City must once again call on Spider-Man to fend off destructive forces that are far too powerful for the likes of mortal man. ~ Jason Buchanan, Rovi
more
Cast
News & Interviews for Spider-Man 3
Critic Reviews for Spider-Man 3
Audience Reviews for Spider-Man 3
½
Harry loses his memory after attacking Peter and their friendship is seemingly restored leaving him free to hunt down the man truly responsible for Uncle Ben's death. However things are complicated by his transformation into The Sandman and the appearance of an alien creature that enhances Peter's negative emotions. There's actually a pretty decent sequel hidden inside the bloated, episodic mess that is Spider-man 3. Sam Raimi's presence at the helm is marred by his inability to resist the keys to the SFX toy shop but the cast are still likable, the comic relief (and JK Simmons in particular) is still funny and there's plenty of pacey action to maintain the attention. The big problem is with the script which relies far too much on contrivance and totally implausible coincidence. The most frustrating thing is that it could so easily have been corrected by the complete removal of the utterly ham-fisted and largely irrelevant Venom sub-plot. All the weakest elements of the film are tied up in it from Topher Grace's terrible performance, to the impossible to believe coincidences, to the frankly embarrassing jazz dancing emo Parker sequence. It's a shame because this wrecks the second half of the film and just detracts from some pretty decent character moments from Peter, Harry and even The Sandman himself. Yet another abject lesson that in film making, more often can mean less.
½
"Spider-Man 3," i'm not going to lie, has tons of plot holes; However, I find this film extremely entertaining! Ever since I first laid eyes on this film in theatres I was hooked on all the cheesy CGI that they chose to throw in. I could watch this film over and over again, laughing at the random cast choices and acting, but my belief still stands that if it is excluded from the first two films, then it would be a great film! Without it's corniness and it's unbearably cheesy scenes of CGI, it is comparable to the first film. It strays away from the comic books, which we all know that Raimi has already done since the beginning, but this time he went a little overboard when thinking about plot lines. He places far too many and much too many villains. Overall, I must say that it is the most entertaining film of the trilogy, to just kick back and watch some action, but without the heart of the first two, it unravels. "Spider-Man 3" works very hard to hold it's audience, and it does succeed, but only to fans of the first two. It will not gain any new fans. This film could have the title of "awesome," but there is too much wrong with it. "Spider-Man 3," despite what the critics have to say, it a very fun ride!
Spider-Man 3 Quotes
Joseph "Robbie" Robertson: Black-suit Spider-Man! Peter, these are incredible! We gotta have these, Jonah.
J. Jonah Jameson: I'll pay you the usual rate.
Peter Parker/Spider-Man: If you want the shots, I'll take the staff job. Double the money.
Mr. Ditkovitch: Give me rent.
Peter Parker/Spider-Man: You'll get your rent when you fix this damn door!
Harry Osborn: How do you like that, Spidey?
Peter Parker/Spider-Man: Stings, doesn't it?
Harry Osborn/New Goblin: I protected you in high school, and now I'm gonna kick your little ass!
Peter Parker/Spider-Man: [sarcastically] Ooohh.
Discussion Forum
Discuss Spider-Man 3 on our Movie forum!
News & Features