Spiders
(2000)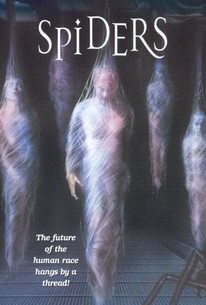 Movie Info
What has eight legs, a big appetite, and brings terror to a desert community in this sci-fi thriller? A group of astronauts are performing scientific experiments with a spider aboard a space shuttle when the craft is struck by a solar flare. This brings about an unexpected reaction in the spider -- the bug begins to grow, and it attacks and kills the crew on board. Marci (Lana Parrilla) is a student journalist with a more-than-academic interest in conspiracy theories and UFOs; she's digging around in the desert looking for evidence of alien aircraft landings when the shuttle crashes to Earth -- and a monstrous spider crawls out. Marci and her friends try to convince the citizens of the nearby town that they're in grave danger, but given Marci's habit of reporting strange stories of dubious credibility, most people are loath to believe her until it's too late. Spiders also stars Josh Greene, and Oliver Macready.
Critic Reviews for Spiders
Audience Reviews for Spiders
Despite the low critical reception, I still enjoyed this film, I've watched it quite a few times. The story was fast paced, with realistic special effects and distinctive characters. The cocoons scared me so much as a child. The roaming of the gigantic spider was a bit kitsch and campy, but overall, it's not a bad sci-fi action film.
Sylvester Kuo
Super Reviewer
This is one of those highly low-budget films that are so bad that they are good. The plot is mediocre, some of the special effects are laughable and the dialogue is extremelly cheesy. Recommended for those who like to sit down and watch this movie for the pure sake of having a laugh.
Matthew Ashworth
Super Reviewer
Spiders Quotes
There are no approved quotes yet for this movie.