Spiders
(2013)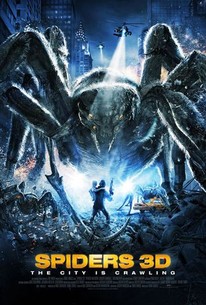 Movie Info
SPIDERS centers on mutant spiders that fall to earth from a disabled Soviet space station. With New York City threatened to be overrun, it's up to transit supervisor Jason Cole and health inspector Rachel Cole to save their daughter and prevent the colossal Queen Spider from uniting with her eggs and creating an army of massive killer spiders. (c) Millennium Entertainment
Rating:
PG-13 (for creature violence and disturbing images)
Genre:
Directed By:
Written By:
In Theaters:
On DVD:
Runtime:
Studio:
Critic Reviews for Spiders
Audience Reviews for Spiders
A cool sci fi film paying homage to 50's big bug films like Them" Good special effects and story. I wish critics would rate films up against other films in their category instead of putting them up against "Forrest Gump" or "The Godfather" I really loved this entertaining film!
ken karlson
31 of 31 # 13 SPIDERS - A B-movie that could of been better but its not totally terrible. So we start with a pretty decent CG intro of the Russian space station, we see some spiders inside the station and suddenly some asteroids hit the space station sending all sorts of pieces to earth....one happens to land on a movie set that looks like New York city in a subway station to be more precise, and wouldn't you know....Jason Cole...our hero...happens to be a transit supervisor....I am fearing Tommy Lee Jones in Volcano all over again. So Jason sends Jimmy our first victim to investigate what happened, Jimmy gets bitten by a spider that somehow survived re-entry and kills Jimmy...who later we find out now has spider eggs inside of him. The spider now proceeds to attack rats and starts to multiply as these rats have eggs inside them and now we have a gremlins situation. Jason our hero is divorcing Rachel, a woman with so much Botox on her face she looks like she had a face implant..and they have a kid that will serve no other purpose other than a plot point to keep these two people together for most of the movie. blah blah blah blah Russian scientist ( I think ) shows up looking - and has a massive knowledge of these spiders...oohhh the US Army is plotting with this scientist......the spiders were injected with some sort of alien serum they discovered and the spiders were the only species that could handle it...and they want the spider queen because her web can create super bullet proof whatever and whoever controls that has a massive edge on war and the plot now has gone full on B-movie mode. So the queen is born and she is out for a night on the town New York style, we learn that bullets can't hurt her, rockets from a helicopter can't hurt her, and a direct blast from a tank just barely pushes her back, we have SPIDERZILLA !!!! I gotta admit the scenes with the queen were pretty entertaining and seeing an army of spiders dispatch people had me smiling a bit. Our Hero Jason of course has to rescue her daughter who is being chased by the queen and him being a transit supervisor....he uses a subway train to push the spider queen into a pipe line and burn her and every single spider out there. But a small spider survives !!!! sequel...SEQUEL !!!!! whooo whoooo !!!! lol. This one is not to be taken seriously, the humor comes from your participation making fun of this movie...I don't know if everyone is taking the material seriously as there are no funny moments in the movie, but that allows for countless opportunities to do riffing on this thing, great to watch at a party with a bunch of intoxicated friends.
Ozzdeath Souldeath
½
Spiders make for an interesting topic for a horror film. A lot of people have a phobia about these creepy crawlies and of course it makes for engaging horror films. There have been a few good spider films in the past, most notably Eight Legged Freaks and Arachnophobia. Both were awesome and highly entertaining, and gave viewers new reasons to be afraid of spiders. Now with this picture, aptly titled Spiders, there is an interesting idea behind the plot. A space station crashes into New York City and it releases genetically enhanced spiders that grow and terrorizes the city. Although not a great film by any means, this is still a pretty decent film that is provides some mindless entertainment value. This is an underrated film that isn't too bad if you're in the right mood to enjoy. Spiders has an interesting idea and it pays off for the most part. However there could have been some improvements, especially in the acting and visual effects, but what can you expect from a low budget B movie monster flick? I didn't expect much from this movie, in fact I expected to hate it, but Spiders is a much better movie than many other horror films that has been released this year. Don't take this one too seriously, and you may like it. The film does have its flaws, but it provides some fun entertainment that is a pleasant time waster. This is mostly a movie for B movie fans and those who enjoy monster flicks that are over the top. The film could have benefitted from a script rewrite and a few changes in the cast; nonetheless it's enjoyable for what it is. If you love creature feature horror themed picture, you're sure to like this one.
Spiders Quotes
There are no approved quotes yet for this movie.
Discussion Forum
Discuss Spiders on our Movie forum!