Spiker
(2007)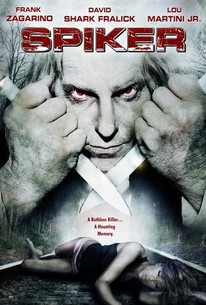 AUDIENCE SCORE
Critic Consensus: No consensus yet.
Movie Info
A hulking Albino serial killer escapes from an asylum and returns to his former hunting grounds to stalk a group of teenagers in this stalk and slash shocker from written, directed by, and starring Frank Zagarino (Fitness for Life, Project: Shadowchaser). Years ago, the Spiker terrorized a small community by slashing his victims to shreds with railroad spikes and burying their bodies beneath the railroad tracks on the outskirts of town. These days the Spiker is rotting away in an institution, never to see the light of day again; at least that's what the haunted locals say in order to get a good night's sleep. When the authorities attempt to transport the Spiker and he stages a daring escape, his bloodlust becomes stronger than ever before. Now, in the small town where the legend of the Spiker was born, a new chapter in his dark saga begins. A group of bored teens have decided to camp out in an abandoned house, and just as they uncover a chilling secret, the Spiker returns to finish the job he began so many years ago.
Rating:
R
Genre:
Directed By:
Written By:
In Theaters:
On DVD:
Runtime:
Studio:
Critic Reviews for Spiker
There are no critic reviews yet for Spiker. Keep checking Rotten Tomatoes for updates!
Audience Reviews for Spiker
...so you're probably wondering how it came to pass that I would watch a straight-to-DVD horror/supernatural/low-budget mess like SPIKER, and believe me when I tell you that explaining why I saw it will be a lot easier than explaining the movie itself. The truth is, on the final day of class for one of my film courses at the high school, the one student I had left on that day arrived with the film and told me that it came on a recommendation as being one of the "worst films ever." Despite my snobbery, he all but demanded that we watch it. We laughed our asses off. I can imagine the creators of SPIKER sitting around and trying to decide on a unique concept for a horror film: Director:"Hey, I've got it! How about a mute, albino serial killer who communicates only by slamming the heads of two polished railroad ties together?" Writer: "That sounds awesome! And he kills people with the spikes he's always slamming together!" Director: "Totally! We could call him "the Spiker." Writer: "Oooh, creepy! And let's see...maybe we could have him stumble upon a cabin in the woods filled with isolated and horny teenagers." Director: "I love it. See, this is why I hired you, man. To come up with these awesome original ideas. Can you throw a ghost in there too, though? I want to make sure that we really scare people!" And that, in a nutshell, is SPIKER, a film you would only watch if you believe in the entertainment value of "so bad it's good"-types of movies. I think there's an age at which these kinds of films appeal to young men especially, and I'd be lying if I said I never went through that period (though they were always best viewed with alcohol). But I'm fairly certain that this period in my own life is over, and now I try not to waste time on stuff like this. The series of laughable moments in SPIKER never seems to end, and you can enjoy this hellaciously bad film if you can resist asking too many questions. But therein lies the problem. Because a rational mind will wonder: What's with the really bad special effects? How does Spiker replenish his supply of spikes when he only seems to have two on him and yet he leaves the spikes in the bodies of the people he kills? What's with the creepy uncle, a cross between Johnny Depp and a professional wrestler? How does one teenager get pinned to a wall by Spiker and then manage to be stabbed my a mysterious third arm holding the spike? Did this director learn the word CONTINUITY in film school? The answer to that last one is probably, "film school? What film school?" Before SPIKER ended, my student--who had made a horror film of his own for a class project--said, "I think my movie is better than this." Indeed, Charlie. Indeed. Heinous acting. Time/space continuity errors in the story. Laughably bad and unmotivated frame composition. A whiff of a strory idea gone senselessly awry. SPIKER. The scariest part of the movie? The prospect of a sequel.
Keith Carlson
I could not get to the end of it because it just seemed to predicatable. I loss interest quickley as my mind began to turn to mush.
Jessica Harris
Ugh. No, no, no, no, no! I got so tired of seeing the killer attempt to scare you with the railroad spikes and that corny sound that accompanied it. The whole thing was just awful. I was actually glad everyone was dying.
Christina Evelyn
Spiker Quotes
There are no approved quotes yet for this movie.
Discussion Forum
Discuss Spiker on our Movie forum!