Spirit of Jeet Kune Do: Once Upon a Time in High School (Maljukgeori janhoksa)
(2003)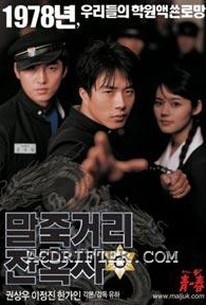 AUDIENCE SCORE
Critic Consensus: No consensus yet.
Spirit of Jeet Kune Do: Once Upon a Time in High School (Maljukgeori janhoksa) Photos
Movie Info
It's 1978 and Hyun-soo (Kwon Sang-woo of My Tutor Friend), a quiet boy who idolizes Bruce Lee has just transferred to a new high school. At the very moment of his arrival, Hyun-soo learns what the school's military discipline is all about when he's beaten with a bat for violating the dress code. In class, he meets Hamburger (Park Hyo-jun), a slovenly fat kid who makes extra money selling pornography to his fellow students. Hamburger warns him about Stabber (Kim Won-kwon), a bully, so named because of his tendency to stab fellow students in the head with his pen. When the athletic Hyun-soo shows his skill on the basketball court, he's taken under the wing of BMOC Woo-sik (Lee Jung-jin). Woo-sik is charming and persuasive, but he's always ready to solve things with his fists if necessary, while Hyun-soo admits that he's never punched anyone. The two young men are fast friends until they run into the lovely Eun-ju (Han Ga-in) on the bus home one day. Hyun-soo is immediately smitten, and when she's accosted by some rude soldiers, he defends her. The soldiers chase the kids off the bus and Woo-sik fights to protect them. Hyun-soo pines for Eun-ju, but Woo-sik is bolder and gets the girl. The friendship disintegrates, and Woo-sik's conflict with Jong-hoon (Lee Jong-hyuk), the officious student patrol captain, eventually comes to a violent head forcing Hyun-soo to take action. The Spirit of Jeet Kune Do: Once Upon a Time in High School was written and directed by Yoo Ha (Marriage Is a Crazy Thing) and was shown at the 2004 New York Korean Film Festival ~ Josh Ralske, Rovi
Critic Reviews for Spirit of Jeet Kune Do: Once Upon a Time in High School (Maljukgeori janhoksa)
There are no critic reviews yet for Spirit of Jeet Kune Do: Once Upon a Time in High School (Maljukgeori janhoksa). Keep checking Rotten Tomatoes for updates!
Audience Reviews for Spirit of Jeet Kune Do: Once Upon a Time in High School (Maljukgeori janhoksa)
½
This movie, quite frankly, bored the hell out of me. The problem is that the film's central character is about as uninteresting as a main character can get. This might be one of the most uninteresting main characters I've seen since The Forbidden Kingdom. They both sucked the life out of what could've been a good movie. The guy in this movie is incredibly dull for the majority of the film, the movie only really gets interesting during the last 20 minutes or so by which point it is simply too late for the film to be good. I simply can't overstate how boring this guy actually was, to the point where it's a complete detriment to the entire film. I don't see a problem with a character having a sensitive side, but when the entire movie is him looking sad or crying it makes it torture to keep on watching. Not to mention the "romance" that develops between the leads is also very bland. I understand this is supposed to be a coming-of-age film, but I have no idea what the story was supposed to be about. Sure, the main character came out of his shell...so what? How is he more mature because of it? The story sucks a lot. I have no idea why a lot of the stuff was in the movie quite frankly. The pacing of the movie is also pretty horrendous. This is mostly due to the main character being the whiniest character I've seen in a while. He's simply no fun to watch and the movie ends up feeling considerably longer than it actually is. The movie isn't funny, nor is it all that introspective about how hard it must've been for this guy to "survive" high school. Really, as you can see I did not like this movie at all, I'd even go as far as to say it was bad, not just boring. As mentioned, the movie did get more interesting but that is like going from dead to barely breathing. Although I did find the end to be pretty cool, the movie was too far gone to be saved. I'd say avoid this film at all costs, quite frankly. It has very little redeeming qualities.
Jesse Ortega
Super Reviewer
An overlooked gem which manages to be impressive without falling into trite sentimentalism and I actually loved the incidents near the ending & the ending itself, Imo they were pretty realistic & that's the main reason I'm giving this such a high rating
½
A honest and well told coming-of-age story, with beliavable written characters and situations. No cheap sentimental bullshit or any other stuff like that. Even when the movie takes some huge risks in the final act it keeps itself very well grounded. Some predictable plot devices never feel forced either thanks to the solid script. Sad that this one went under the radar of many. Love doesn't "conquer all", sometimes it just screws you, but it can also help you mature in ways you wouldn't expect. Note: This is NOT a martial arts movie, it's part of the theme of the film, but it's not a movie of that genre.
Tsubaki Sanjuro
Super Reviewer
Spirit of Jeet Kune Do: Once Upon a Time in High School (Maljukgeori janhoksa) Quotes
There are no approved quotes yet for this movie.