Spite Marriage
(1929)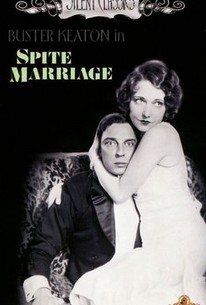 Movie Info
A hapless tailor's assistant falls hard for a snooty actress -- who suddenly agrees to marry him when her fiance dumps her. Keaton's last silent film was a struggle all the way between Keaton and his new MGM studio bosses, but it still contains abundant laughs and several classic moments.
Rating:
NR
Genre:
, ,
Directed By:
Written By:
In Theaters:
Runtime:
Studio:
Metro-Goldwyn-Mayer
Critic Reviews for Spite Marriage
Audience Reviews for Spite Marriage
Keaton is hilarious as always in this movie. If you're a fan of his, you'll love it.
[img]http://www.art-posters.net/posters/newart/cm974.jpg[/img] Although [i]Spite Marriage[/i], Buster Keaton's last silent film, is not as good as some of his other stuff, it is still a very enjoyable film. This is certainly a film to watch if your into comedies, silent films, and/or Buster Keaton. Each time I see one of his movies, I wonder how he hasn't become as popular as Chaplin. Elmer (Buster Keaton) is a dry cleaner. He is madly in love with the stage star Trilby Drew. For each of her 35 performances, he "borrows" someone else's tuxedo and races to the theater. When Trilby's co-star boyfriend gets engaged to someone else, she marries Elmer to get even, assuming that Elmer is a millionaire. But she's clearly still in love with her co-star, and her manager makes her leave Elmer, trying to pay him off so the papers don't hear about her marriage to a nobody. Elmer gets tied up in a car chase, and falls in the hands of a few criminals. One night he is thrown overboard, and is rescued by a private yacht. When Elemer sees Trilby there, he trys to win her heart. A lot of the comedic elements were very good, but then there were some repetitious ones that really didn't seem funny at all. Although the film is only 80 minutes long, they could of certainly cut it down. A few of the scenes seemed to drag far behind the rest of the movie. The films original music score is not as good as I would have hoped. It added in sound effects that were definitely not needed, and just didn't fit in with the silent film experience. Despite some of those errors, [i]Spite Marriage [/i]is very enjoyable, and can turn out be laugh out loud funny at times. I loved it when Elmer is given a part in the play. Everything turns for the worse, and of course Elmer messes everything up. Keaton pulls off another great performance, no one else could of done it. This is another film that re-inforces the statement that he is the greatest comedian of the 1920's. Rating: 82/100
A B
½
A fairly rambling first half, but the second half is genius and hilarious. Definitely worth watching.
Matt Kendrick
Spite Marriage Quotes
There are no approved quotes yet for this movie.
Discussion Forum
Discuss Spite Marriage on our Movie forum!