Split
(2017)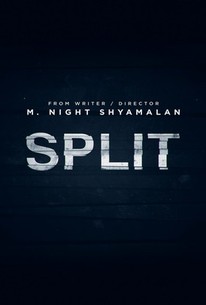 TOMATOMETER
AUDIENCE SCORE
Critic Consensus: Split serves as a dramatic tour de force for James McAvoy in multiple roles -- and finds writer-director M. Night Shyamalan returning resoundingly to thrilling form.
Movie Info
While the mental divisions of those with dissociative identity disorder have long fascinated and eluded science, it is believed that some can also manifest unique physical attributes for each personality, a cognitive and physiological prism within a single being. Though Kevin has evidenced 23 personalities to his trusted psychiatrist, Dr. Fletcher, there remains one still submerged who is set to materialize and dominate all the others. Compelled to abduct three teenage girls led by the willful, observant Casey, Kevin reaches a war for survival among all of those contained within him - as well as everyone around him - as the walls between his compartments shatter apart.
News & Interviews for Split
Audience Reviews for Split
½
+ One incredible performance, two great ones, palpable atmosphere, fantastic cinematography, and a wonderful ending. - One or two plot contrivances, two mediocre performances Overall: my third-favorite Shyamalan film, and the one that truly marks this once-revered filmmaker's return from revilement.
Andy Spencer
Super Reviewer
Weren't we all waiting to see our favorite (or perhaps not-so-favorite) director M. Night Shyamalan give us some of the great stuff that he gave us many years ago? Didn't we all want to see him return to form? Well, with Split, the newest installment in his filmography, it seems like he finally has. Split stars James McAvoy as a man named Kevin who has dissociative identify disorder, and who has 23 different personalities residing inside his brain. One of those personalities, Dennis, kidnaps three girls, portrayed by Anya Taylor-Joy, Haley Lu Richardson, and Jessica Sula, and holds them captive in a remote basement in preparation for the release of his 24th personality, The Beast. Now, the star and focus of this film, McAvoy, does a fantastic job as the main character(s) of the film. As we've seen with his portrayal of Professor X in the X-Men prequel series, the man can act. And he acts the crap out of this role(s). He does an amazing job constantly switching between people of different moods, ages, and genders, using subtle facial expressions and looks in his eyes to convey the different emotions and mentalities that each personality possesses. His character's erratic, unpredictable behavior makes scenes thrilling and tension-filled. McAvoy definitely carries the film, and he does so with gusto. The supporting actors, for the most part, do a great job as well. Anya Taylor-Joy proves herself as a child actor with lots of promise. The other two girls in the film play their roles well for the most part, but I did think that they were less convincing in their acting ability than Taylor-Joy. Betty Buckley also plays a great supporting role as Kevin's psychologist, and her character adds to the film substantially. One of the other notable things in the film is the pairing of Shyamalan and the cinematographer, Mike Gioulakis. I'm not sure how extensively these two worked to decide on the shots used in the movie, but they do a spectacular job of conveying and causing claustrophobia throughout the film, making the audiences feel the small, scary spaces in Kevin's basement that the characters feel. It adds to the tension that Shyamalan is obviously going for, and it put me on the edge of my seat constantly. Overall, the film's premise is executed smoothly and effectively. The plot goes in unexpected directions that keep the film fresh and exciting. The interactions between Kevin and his psychologist Dr. Fletcher help build his character and make his already interesting personalities even more interesting. The one misstep the film makes is its incorporation of Taylor-Joy's character's backstory. While it is mildly important in the film's climax, the way it is executed distracts slightly from the plot of the film, causing a couple of scenes to lose their effects. Shyamalan also makes a strange attempt to build up to a sequel and link the film to one of his older works, but the film otherwise has a satisfying and nail-biting climax that wraps up the story well. Split sees M. Night Shyamalan return gloriously to the form of his older works from over a decade ago. It is ultimately a thrilling experience and an astounding showcase of James McAvoy's acting ability, one that I'd love to watch again upon its Blu-Ray release. Split is a great movie, and it gets 4 stars.
Paul Fuchs
Super Reviewer
From The Sixth Sense to The Last Airbender, director M. Night Shyamalan has been great, mediocre, and just plain awful over the last decade or two. A few years ago, I don't believe many people had faith in him being able to create another audience-shocker, but then came along a little film called The Visit. While it was just a small film that showcased some elements of why he began directing in the first place, it wasn't really all that memorable. That being said, I'm very happy that he made The Visit, because it made Split possible. While I wouldn't call this Shyamalan's best work to date, it definitely ranks among his best. I went back and forth between liking and disliking this film, but once you make it to the conclusion, as long as you have been a fan of Shyamalan's work in the past, you may just be blown away by the greatness. Here is why Split works so well and why I think everyone needs to give it a chance. Beginning as a simple premise of a man kidnapping three girls and locking them up in a cellar, this film rapidly reveals its true colours. Revealing that he is a man with 23 different personalities that all come out as different times, it makes for a very creepy and atmospheric presentation. The first act of this film is truly what I believe will be getting the casual audiences into the theatre. While that's not a bad thing in any way, it does leave a bit of worry that they will not be satisfied with the conclusion of the story. Slowly revealing that there is more to this story than what is being displayed on its surface, it becomes more of a character study, and for very good reason. While I believe there is a reason for everything that occurs throughout this film, I can't see everyone being as impressed. Whether or not you find yourself liking this film or not, it is without question that it wouldn't work without the brilliant work that James McAvoy brings to the table. Throughout the course of the film, the time in between each character he portrays, quickly increases. His performance becomes much more impressive as the film goes on, creating extreme amounts of tension. That being said, his character does go through a bit of a "transformation" that fans may not be too keen on. For the tone of the film that is presented throughout the first and second acts, it really doesn't blend well, until you find out what this film had been trying to accomplish all along. For those of you who have yet to see this film, please skip to the final section, because I will be hinting at the finale of Split. Split really works as two films to be honest. For the fans of M. Night Shyamalan, it becomes a much bigger reveal than it is for casual moviegoers. For audience members who are just looking for a creepy time at the movies, but really have no prior knowledge to the works he has done in the past, you may be a little letdown by the outlandish and ridiculous turn that this film takes. Having said that, Split also works as a world-building picture in retrospect. It's clear that he has been working on this story for quite some time, and just solidifies the fact that he is rapidly returning to form. This is his comfort zone and I think he should be sticking with it. From the symmetry in in certain frames, to the attention to detail when it comes to building a creepy atmosphere, to clever writing that makes the film work as an average horror flick, but also much more when looking back on the film after its big reveal, it is absolutely clear that M. Night Shyamalan knows how to please his fans once again. He now has me looking forward to his future projects again. From some great performances by these young girls, to an award-worthy character displayed wonderfully by James McAvoy, to some very great scoring, as well as a solid screenplay and attentive direction, Split probably the best film you'll seen in all of January this year. There are a few moments that could have been trimmed off and it does feel its length at times, but in retrospect, it needed to be and the payoff put a giant smile on my face. I love this film more and more as I think about it, but it's sadly not quite the accessible masterpiece for those who have no prior knowledge of this director. M. Night Shyamalan has done it again, but really only for his fans. For that reason, it's hard to recommend, but it's a great film for what it sets out to be. It really is for two separate audiences, one where the audience will have "split" opinions, and the other that will have people drooling in amazement. Split is a very well-made, revealing picture.
Split Quotes
There are no approved quotes yet for this movie.
Discussion Forum
Discuss Split on our Movie forum!