Split
(2017)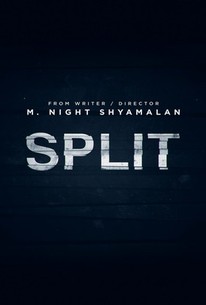 TOMATOMETER
AUDIENCE SCORE
Critic Consensus: Split serves as a dramatic tour de force for James McAvoy in multiple roles -- and finds writer-director M. Night Shyamalan returning resoundingly to thrilling form.
Movie Info
While the mental divisions of those with dissociative identity disorder have long fascinated and eluded science, it is believed that some can also manifest unique physical attributes for each personality, a cognitive and physiological prism within a single being. Though Kevin has evidenced 23 personalities to his trusted psychiatrist, Dr. Fletcher, there remains one still submerged who is set to materialize and dominate all the others. Compelled to abduct three teenage girls led by the willful, observant Casey, Kevin reaches a war for survival among all of those contained within him - as well as everyone around him - as the walls between his compartments shatter apart.
News & Interviews for Split
Audience Reviews for Split
Split is a unique and sharply enigmatic thriller, despite its flawed and outlandish plot. Very few actors can pull off what James McAvoy did in this film, executing all 23 (though primarily 7 on-screen) of his personalities brilliantly, equal parts devilish humor and perturbing anxiety. Anya Taylor-Joy continues to be a goddess and revelation to horror, adding another trophy next to her performances in The Witch and Morgan. Split is an absolute blast from beginning to end, making its uneven pacing and lack of explanation somewhat forgivable. Split prides itself on its frenzied confusion, which may not sit well with many but should be expected from an M. Night film. It's also important to note that Split is one of those films that is 2 minutes too long, because it would be greatness without its tacked-on and unnecessarily irrelevant ending. I will never forgive M. Night for what he did to the ending of this film. What a deplorable stroke to himself. I will not spoil the film's end, but I will say it has ABSOLUTELY NOTHING TO DO WITH THE FILM IN ANY SENSE AND IS A TACKY JOKE. I'm going to split (pun intended) that snippet out of my memory and enjoy the film for the dementedly fun ride that it is.
It's hard to even remember a time when writer/director M. Night Shyamalan wasn't a cinematic punching bag. He flashes onto the scene with the triumviri of Sixth Sense, Unbreakabale, and Signs, what I'll call the Early Shyamalan period. He was deemed the next Spielberg, the next Hitchcock, and the Next Big Thing. Then he entered what I'll call the Middle Period Shyamalan and it was one creative and commercial catastrophe after another. The Village. Oof. Lady in the Water. Ouch. The Happening. Yeesh. The Last Airbender. Ick. After Earth. Sigh. That's a rogue's gallery of stinkers that would bury most directors. The promise of his early works seemed snuffed out and retrospectives wondered if the man was really as talented as the hype had once so fervently suggested. Then in 2015 he wrote and directed a small found footage thriller called The Visit and it was a surprise hit. Had the downward spiral been corrected? With a low-budget and simple thriller, had Shyamalan staked out a course correction for a mid-career resurgence. More evidence was needed. Split is the confirmation movie fans have been hoping for. An M. Night Shyamalan movie is no longer something to fear (for the wrong reasons), folks. Split is all about Kevin (James McAvoy) a man living with twenty-three different personalities in his head. One of them, Dennis, kidnaps three young ladies, two popular and well-adjusted friends (Haley Lu Richardson, Jessica Sula) and the introverted, troubled teen, Cassie (Anna Taylor-Joy). The girls wake up locked in a basement and with no idea where they are and whom they're dealing with. Kevin takes on several different personas: Barry, a fashion designer, Hedwig, an impish child, Patricia, a steely woman devoted to order, Dennis, an imposing threat undone by germs. The altered personalities, or "alters" as they're called, are preparing for the arrival of a new persona, one they refer to as simply The Beast. And sacrifices are needed for his coming. Right away you sense that Split is already an above average thriller. This is clever entertainment, a fine and fun return to form for a man that seemed to lose his sense of amusement with film. The areas where Split is able to shine that would have normally doomed the Middle Period Shyamalan are in the realms of tone, execution, and ambition. Very early on, Shyamalan establishes what kind of feeling he wishes to imbue with his audience, and he keeps skillfully churning those sensations, adding new elements without necessary breaking away from the overall intended experience. You're meant to be afraid but not too afraid. It's more thriller than outright horror. There is a level of camp inherent into the ridiculous premise and in watching a grown man act out a slew of wildly different personas populating his brain. Shyamalan swerves into this rather than try and take great pains to make his thriller a more serious, high-minded affair. His camera lingers on the oddities, allowing the audience to nervously laugh, and he allows McAvoy extra time to sell those oddities. It's especially evident in the introduction of the Patricia alter ego, where McAvoy uses a lot of faux grave facial expressions to great comic effect. Shyamalan no longer seems to fear being seen as a bit silly. Shyamalan even knows in some ways that he's making a genre picture and an audience expect genre elements or the reversal of those elements. At one point, Dennis insists that two of our girls strip to their underwear because they're dirty. I shook my head a bit, believing Shyamalan to sneak in some PG-13 T&A. Except it's just enough for some trailer clips. Shyamalan's camera doesn't objectify the teen girls even after they run around in their skivvies. He doesn't have to indulge genre elements that will break the film's tone. He also doesn't have to overly commit to being serious. He can be serious enough, which is the best way to describe Split. It treats its premise and the danger the girls are in with great seriousness, but the movie still allows measures of fun and intended camp. The cosmos themselves don't have to be responsible for all of time's events to click together to form his climax. It can just be a young woman trying to escape a psycho thanks to her wits and her grit. Execution has also been a nagging problem of the Middle Shyamalan period (affectionately his Blue Period?). I may be one of the few people that thought 2008's Happening had some potential even as is if another director with a better feel for the material and less timidity embracing the full possibilities of an R-rating had been aboard. With Last Airbender and After Earth, both movies were exceptionally bad from a number of standpoints, but Shyamalan's botched execution of them made the anguish all the more realized. You walked away from both disasters and openly wondered why Shyamalan was given such large-scale creative freedom and at what point the producers knew they were sunk. With Split, Shyamalan has paired down his story into a very lean and mean survival thriller anchored by a mesmerizing performance from McAvoy. The story engine kicks in very early, mere minutes into the movie. The man doesn't even wait the usual ten minutes or so before introducing the inciting incident. This Shyamalan has no time to dawdle, and the rest of the movie lives up to this pacing edict. It's efficiently plotted with the girls in a position of discovery and learning their surroundings, the different alters, and how to play them against one another. Each piece of info builds upon the last. It's a survival thriller where you think along with the characters, and their decisions make sense within the internal logic and story that Shyamalan commands. There are scattered interruptions from our subterranean terror, mainly expository from Kevin's shrink and some hunting flashbacks from Casey's childhood with her father. I figured they would reveal Casey to be similar to the feisty heroine from You're Next, revealing her as a fiendishly clever and capable survivalist that the villain underestimates to his great peril. It's not quite that but the flashbacks do serve a purpose, a very dark purpose, and a purpose that could leads to some very uncomfortable personal implications others may interpret. Shyamalan's ambition has often exceeded his reach when it came to his post-Signs oeuvre. The man never seemed like a great fit for the fantasy and sci-fi blockbusters that Hollywood was hoping he'd sprinkle his "Spielberg scion" magic all over. The number of moving parts seems to overwhelm and his worst instincts took over. To be fair, Shyalamlan is also to blame as his ego became inflated and he started chasing after his cinematic windmills convinced he was creating great works of art. In Lady in the Water, he inserted himself as the writer that will eventually save all of mankind. That's a step above arrogant. And he reserved time in that fishy-woman-out-of-water misfire to literally eviscerate a crotchety film critic because the man obviously held no grudges. My point is that when Shyamalan's stories got too big so did his sense of himself. He lost limitations and people reeling in his excesses and wayward plotting. Even Shyamalan's early successes are smart examples of how to get the most bang for your buck. Unbreakable is his "comic book movie" and that has like one fight scene. Signs left most to the imagination. Shyamalan has always been a better filmmaker when he holds back and embraces the limitations of his situations, findings more resonant creative solutions. Shyamalan has blossomed under the Blumhouse model, a factory for cheap high-concept thrillers in the $1-10 million range. With that kind of minimal budget, it forces Shyamalan to be very economical with his filmmaking and very meticulous with his storytelling. It worked for The Visit and it especially works with Split. This is a movie that emphasizes its strengths, storytelling and performance, and a large-scale budget is not essential for those elements to flourish. You want to know Shyamalan's cameo this time? It's a computer tech literally billed as "Jai, Hooters lover." We've certainly come down from savior of the human race, and it's a welcomed sign (no pun intended). The movie would be so much less without the intensely captivating performance from McAvoy (X-Men: Apocalypse). A character with multiple personalities totaling twenty-three, with twenty-fourth on its spooky way, must be an actor's dream. McAvoy loses himself in the sheer playfulness of the part. The characters are distinct down to his poise, posture, the way he carries his body, subtle facial expressions or movements that he's keyed into specific altered personalities. It's a lot more than silly voices. It's a shame that this kind of performance will never really get the merit it truly deserves. This is an Oscar-worthy performance from McAvoy as he transforms himself again and again. The man finds several different ways to be creepy and menacing, never overdoing the same note. It's an astonishing chameleon-like performance and definitely deserving of future awards consideration, and we're in the general cinematic dumping ground of January. I would like to also call attention to Taylor-Joy (The Witch) and her resourceful and thoughtful performance. She's playing a scared and scarred young woman but a fighter worth rooting for who rises to the many challenges. She's a Final Girl you can love. Split is a solid and atmospheric thriller with a killer crazy performance by James McAvoy. The movie flies by, drawing you into its clutches, and the ongoing twists and turns feel organic. There really isn't so much a twist ending as a culmination of flashback implications. The end has an uncomfortable implication in its resolution, but that's the worst of it. As long as his head doesn't get too big, I could welcome Shyamalan cranking out fun mini-budget thrillers in the Blumhouse model. It could be the beginning of a, dare I say, Shyamassaince. I'm sorry (I'm not sorry). Nate's Grade: B+
Nate Zoebl
Super Reviewer
½
After making numerous amount of failures, Split breaks the line and it's unusual for Shyamalan to make such a big returning point in movie careering from terrible movies to great movies. Forget the fact that this is horror bait, it's actually a welcome back sign for M. Night Shyamalan.
EpicLadySponge the Adventurer
Super Reviewer
Split Quotes
There are no approved quotes yet for this movie.
Discussion Forum
Discuss Split on our Movie forum!