Spoken Word
(2010)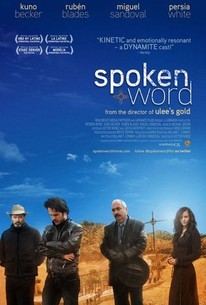 Movie Info
From acclaimed director Victor Nunez ("Ulee's Gold"), SPOKEN WORD tells the story of Cruz Montoya (Kuno Becker, from the "Goal!" trilogy and "From Mexico With Love"), a rock star on the West Coast poetry circuit, where audiences from San Diego to Seattle gather to hear him perform. Just off the road from a successful tour, Cruz gets an unexpected call alerting him that his father, Senior (played by Rubén Blades), is fatally ill. Cruz rushes home to his dying father, a reclusive former schoolteacher still leading a traditional life in their once bucolic mountain valley, now ravaged by poverty, drug abuse, and violence. After years away, Cruz quickly begins to retreat into his troubled former life, managing a Santa Fe hip-hop club owned by a local crime boss, Emilio (Miguel Sandoval, "Bottle Shock" and "Clear and Present Danger"), who Senior used to run with back in the day. Seduced by the fast action and easy money, Cruz loses his poetic voice, his identity, and almost his life, before he finds a way to heal his relationships with his family, his community, and himself. A nuanced depiction of an evolving father-son relationship, SPOKEN WORD depicts the edgy collision of old and new worlds in a rare, authentic portrait of Latino culture in the Southwest, illustrating how cultural roles and machismo can give way when families can move beyond words, both spoken and unspoken, to share the language of their hearts. -- (C) Official Site
Critic Reviews for Spoken Word
Audience Reviews for Spoken Word
½
I really wanted to like this movie... but it was a miss. There is some decent acting, but the rest is over-the-top. It seemed scattered as to what the story was supposed to be about: his drug problem, his family issues with his brother and father, his relationship with girlfriend or the conflict with "the villain". No focus.
Thomas Johnston
Super Reviewer
½
"THIS IS A POIGNANT FILM WHERE RUBEN BLADES SHINES" Directed by: Victor Nunez Running time: 116 min. Release date: July 23, 2010 (limited) Genre: Drama, Crime , and Gangster Distributor: Variance Films & New Mexica Media Partners MPAA Rating: Not rated In the literary world, the term "spoken word" refers to modern-day poetry or slams. Sparked by the words of poet Joe Ray Sandoval, a New Mexican whose poetry of dysfunctional love, family roots, and the hardnesses of life, along with co-screenplay writer William T. Conway craft a poignant story of self-expression, healing and family relationships in a Latino setting. The movie takes place outside of Sante Fe, New Mexico where Cruz portrayed by Kuno Becker (b.Eduardo Kuno Becker Paz), the well known Mexican lead actor of the "Goal" trilogy, is a successful touring poet and poetry teacher from San Francisco/Oakland Bay area where he shares his life with a beautiful artist named Shae (Persia White). His return to New Mexico where he has a shadey past of drug usage and dealing, is because of his dying reclusive former schoolteacher father Cruz Sr., brilliantly played by Ruben Blades, is dying. This stimulating plot places various characters in both Cruz Jr. and Sr.s' way of reuniting,, such as Emilio (Miguel Sandoval) a local crime boss and Cruz's younger brother Ramone who is relunctant to showing his brotherly love. The life process of all concerned in the film is a journey of redemption and recovery laced with crisp fast pacing and action. It is enlightening to see in various scenes the elements of poetry, such as, rhythm, meter, rhyme, alliteration, simile, metaphor, tone, theme, and symbolism being exposed to the audience pleasurably. Clearly, this emerging narrative offers the cast a platform to give terrific performances. I was extremely impressed with Ruben Blades portrayal of an elder sharing wisdom with his sons and challenging inevidable death. As thought provoking the storyline may be, Blades performance is twice as riverting and stimulating. This film gives an authentic look at the Latino culture in the South West, illustrating how cultural roles and machismo can give way when families can move beyond words, both broken and unspoken. Review by Gerald Wright
G Wright
Spoken Word Quotes
There are no approved quotes yet for this movie.
Discussion Forum
Discuss Spoken Word on our Movie forum!