Spontaneous Combustion
(1990)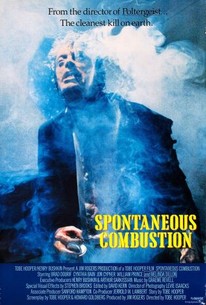 AUDIENCE SCORE
Critic Consensus: No consensus yet.
Spontaneous Combustion Videos
Spontaneous Combustion Photos
Movie Info
In this horror outing, a secret government experiment produces a man capable of using his mental powers to start fires.
Audience Reviews for Spontaneous Combustion
½
I'm not quite sure where to start with this one... While not the greatest movie I've ever seen, there was at least some hope that "Spontaneous Combustion" would be a fairly cheesy B movie with a half baked plot. It somewhat delivered on that premise with Brad Dourif giving a fully committed performance that was made hilarious by the dialogue and story it had to support. Unfortunately, the entertaining portions of the film were seriously undercut by an ending that ranks with "Highlander 2: The Quickening" in terms of being purely awful. It almost feels as if the film ran out of money and Tobe just said "F- it, I don't care anymore... have him dissolve into light? Can we do that? Yes? great." It's rare that a film can make me think "WTF I just watch?" especially after being at least amused by a good portion of the film, but this film did it (not in a good way). Overall, "Spontaneous Combustion" starts off entertaingly cheesy, but manages to turn into a dumpster fire of awful in the end. 2 1/2 stars
Ross Malo
Finally saw this and it isn't the crappiest movie that the internet critics would lead one to think. Brad Dourif has a borderline performance where you cant tell if he is acting legit or if he is treading ham territory but he is interesting and intense in his trademarked ways. Hooper's effects are almost a cross between Poltergeist and Lifeforce but on a weaker level. Some of the fire effects do work. The story is kind of interesting but it just doesn't have an effective villain or supporting characters. Still there is some drive-in, late night sleaze that slightly elevates this over a bad horror/thriller movie from the late 80's early 90's.
Rodney Eckrich
Moderately amusing film about a young man (the awesome Brad Dourif) being the son of parents who were testing in atomic weapons experiments which results in his ability to control fire and electricity, which also leads to terrible affects to his mind and body. Kind of a boring film, but has its moments. This is really different for Hooper, especially with the anticlimactic ending.
Jason Duron
Spontaneous Combustion Quotes
There are no approved quotes yet for this movie.
Discussion Forum
Discuss Spontaneous Combustion on our Movie forum!