Spooky Buddies
(2011)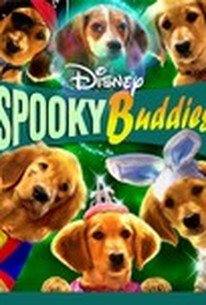 AUDIENCE SCORE
Critic Consensus: No consensus yet.
Movie Info
Along with new friends Pip, Zelda, Rodney, Skip, and a friendly ghost, the buddies roam the halls of a mysterious mansion in hopes of putting an end to Warwick the Warlock's mean-spirited plans.
Critic Reviews for Spooky Buddies
All Critics (3) | Fresh (2) | Rotten (1) | DVD (1)
Spooky Buddies boasts the feel of a lazy, consistently unwatchable bit of kid-oriented filmmaking...

Why else would you watch this movie than to see a litter of golden retriever puppies dress up in Halloween costumes? Adorable.

"Spooky Buddies" is a perfect howling surprise for all the little ghouls out there.

Audience Reviews for Spooky Buddies
WORST buddy movie I've ever seen! with the decent animation, the movie is still BAD! Why? I can explain. this movie sure wasn't spooky, the acting is TERRIBLE. The Hound's quotes make no sense, the villains are idiots the plot is predictable and this movie has LOTS of cliche's. Finally we have the ending, the ending WORSE than The Lion King 2's ending. The villain is defeated with a FART!!!!
S. S.
When do you and I get to meet the holiday hound? A group of puppies are born into a litter of five. Unfortunately, and evil sorcerer needs to sacrifice the puppies to release the holiday hound. He successfully sacrifices one but the four others escape and begin their lives as dogs. Unfortunately, the sorcerer is back and he wants to finish what he started some years ago... "You and I shall rule the land, hound." "I like the sound of that." Robert Vince, director of Spymate, The Search for Santa Paws, Treasure Buddies, Space Buddies, Santa Paws 2, and Super Buddies, delivers Spooky Buddies. The storyline for this picture is as you would expect, kind of a Scooby Doo mixed with Jim Varney plot. There were some interesting special effects but the overall movie was pretty ordinary. "All I wanted was a wise owl. It seems that I got more of a parrot." I watched this movie off Netflix with my daughter a couple weeks ago because she loves dog movies (and fortunately, Disney keeps making them). I found this movie kind of blah but I found myself watching it interested in what would ultimately happen to the dogs. I will say some scenes were more intense than I anticipated; but overall, unless it is to entertain the kids, I'd skip this picture. "Come out, come out, and I'll have your soul for dinner." Grade: C-
Kevin Robbins
Puppies in Halloween costumes and the addition of an adorable beagle puppy...how can you go wrong?
Sarah Prisbylla
Super Reviewer
Spooky Buddies Quotes
There are no approved quotes yet for this movie.
Discussion Forum
Discuss Spooky Buddies on our Movie forum!