Spooner
(2011)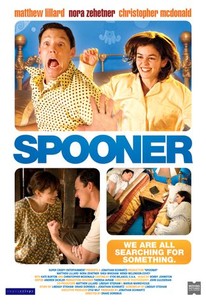 AUDIENCE SCORE
Critic Consensus: No consensus yet.
Movie Info
Herman Spooner (Matthew Lillard) is a used car salesman who still lives at home with his parents. Spooner is fairly set in his unfulfilling routine, but turning 30 marks a hard deadline set by his mom (Kate Burton) and dad (Christopher McDonald) to get a place of his own. To top it off, Spooner's boss (Shea Whigham) is putting on the pressure to bring in some numbers, or face the chopping block. Headed for one of the worst days of his life, Spooner meets the girl of his dreams, Rose (Nora Zehetner). Forgoing all other priorities, Spooner is now working on winning her heart, but on their perfect date, she breaks the news that she is about to leave for the Philippines. How far will Spooner go to keep Rose in town and show her he really knows how to spoon? --(c) Moving Pictures
Critic Reviews for Spooner
All Critics (2) | Top Critics (1) | Fresh (0) | Rotten (2)
Before you can say "Judd Apatow" we're whisked away into a movie Never-Ever-land of yeah-right romance for going-nowhere guys.
Los Angeles Times
Top Critic
Spooner unfolds in an alternate, fantasy reality where girls swoon over de-masculinized awkwardness, and its makers additionally assume this is will automatically tickle an audience pink.

Audience Reviews for Spooner
½
Very cliched but I found it had a few good moments. Christopher McDonald seems to play the same role in every movie I have seen him in.
Charles George
½
I'm surprised I enjoyed this movie as much as I did, especially considering it does not seem to take place on the same plane of reality that I live on. In the real world, a guy as awkward and semi-creepy as Spooner would have driven that girl away right around the second time he showed up in the hotel she was staying at, and she probably wouldn't have let him in. (The fact that Rose is somewhat soft-spoken and possibly is the nicest person on the planet doesn't change this...) I'm speaking from experience, having exhibited Spooner-like behavior in the past as well as being on the receiving end of some. But I like this movie because it is not shrieking in your face like "All About Steve" or sticking labels on everyone like most movies about characters like Spooner do (the fact that the word "Asperger's" was not brought up once was INSANELY joyous for me). Basically, this is a movie about two nice people (one of whom is weird and a bit stalker-y, but he's NICE) who kind of fall in love. It's a total Movie kind of love, and there's about a 2% chance of this actually happening in real life, but their scenes together are so sweet that it's hard for me not to like this movie.
Kim Broomall
Deeeelightful!!! I am amazed at the lack of interest for this movie. I found it absolutely charming, quirky, and really well done.
Cynthia S.
Super Reviewer
Spooner Quotes
There are no approved quotes yet for this movie.
Discussion Forum
Discuss Spooner on our Movie forum!