Spork
(2011)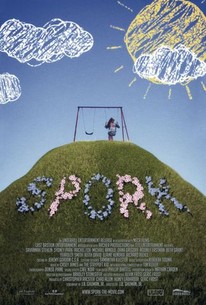 Movie Info
In this offbeat independent comedy, Spork (Savannah Stehlin) is an awkward junior high student with bad skin and worse hair. Spork has one other thing that causes her grief -- a penis. Though she lives as a girl, Spork is a hermaphrodite (hence her nickname -- "not a spoon, not a fork"), and her sexual ambiguity makes her the target of constant bullying by overwrought mean girl Becky Byotch (Rachel G. Fox) and her clique of harpies in training. Things are not much better at home, where orphaned Spork lives with her slobby brother, Spit (Rodney Eastman), and his sedentary girlfriend, Felicia (Elaine Hendrix). Things start to look up for Spork when she makes friends with the highly attitudinal Tootsie Roll (Sydney Park), who embraces her as a fellow outcast in a school of obnoxious conformists, and with the help of Tootsie Roll, overweight Asian Chunk (Kevin Chung) and cheerful Justin Timberlake fan Charlie (Michael William Arnold), Spork learns how to dance and decides to show off her new moves at the school talent show. Spork was the first feature film from actor-turned-writer/director J.B. Ghuman Jr. ~ Mark Deming, Rovi
Rating:
PG-13
Genre:
,
Directed By:
Written By:
In Theaters:
On DVD:
Runtime:
Studio:
Audience Reviews for Spork
A quirky, imaginative and outrageous little movie that will speak to more of us than any of us would like to admit.
Lee Mayo
there's a transparency about it that's expected to lift but never does. it's fucking weird, but mostly familiarly and tiresomely so. it's progressive, but in the bare minimal, don't-say-gay/reverse-racism-exists kinda way. you hope for some gesture of subversion in the embrace of decades-old tropes, but it never comes. very possibly over my head, but more likely just trying too hard to be something it's not.
Rae Griffen
I thought this movie was so cute. They didn't use typical musics you would hear on a radio, they used cute music. This movie is sort of inspired by Wizard of Oz and Twister. I enjoyed watching this movie because it's so sweet and cute. Yeah, the main girl lives in a trailer, but she wants to learn how to dance to get the cash reward from the contest. This movie was interesting because she gets picked and bullied by the popular girls in school and just random classmates, thinking she might have both vagina and a penis, why other reasons she's called Spork. These kids are so young, but they tend to use inappropriate languages a lot which makes this movie look more realistic since younger generation has been lately using inappropriate languages to express their words. As you watch this movie, the main girl, Spork will remind you of Napoleon, of how awkward, weird, and odd these two were. This movie has its creativity and humor. It wasn't too much of a dry humor like Napoleon Dynamite, it had a lot of flavor to this movie which was entertaining to watch. Every girls in school wants to be pretty, one of them is Spork as well. So in order to get some cash, she needed some talent to win the contest show she decide to participate, help of her friend that knows how to do booty dancing. This is no high school, it's middle school we're talking here. Movie also mentions Justin Timberlake and Britney Spears as their role models for dance-off, which is interesting and old school-like.
Sung Roh
Spork Quotes
| | |
| --- | --- |
| Spit: | Are you pregnant, Spork? |
| Spork: | No, Spit. |
| Spit: | Did you get someone pregnant, Spork? |