Spring Break Massacre
(2008)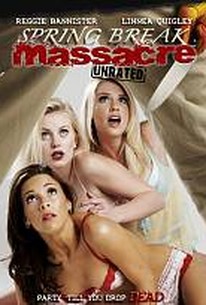 AUDIENCE SCORE
Critic Consensus: No consensus yet.
Spring Break Massacre Photos
Movie Info
Six gorgeous sorority girls fall prey to an escaped serial killer with a reputation for crashing sleepovers. As the body count rises under the silvery moonlight, the local sheriff (Reggie Bannister) and his devoted deputy (Linnea Quigley) capture the murderous maniac, and the brave girls fight back with everything they've got.
Rating:
NR
Genre:
,
Directed By:
Written By:
On DVD:
Runtime:
Audience Reviews for Spring Break Massacre
Unwatchable. Bad acting, tiresome dialogue, plot is completely undeveloped. It's been done many times before, with much better results. Did the director suddenly discover echo, speed manipulation, and black and white effects all at once, on meth?
Lindsey Lewis
First, there was Slumber Party Massacre and its two sequels, which then spawned a larger series of basically unconnected films called the Massacre Series. Spring Break Massacre represents another in the long line of Massacre films, and it is a thoroughly disappointing one. Spring Break Massacre feels more like a Scinemax flick than a legit slasher film. It privileges T&A over gore too much and hence it is just a boring, unoriginal, badly acted piece of garbage.
Al Miller
I've seen some pretty cheesy movies in my time, from Basketcase I and II to the entire Puppetmaster series, however this movie puts all others to shame. I can't give you a better example of horrible acting, casting, and dialogue than this movie. The premise is pretty simple, a killer is put behind bars for the murder of some teenagers, but escapes prison and presumably comes back for revenge on any involved who put him behind bars. However, his escape is just a cover-up, a father to a young girl throwing a slumber party wants the daughter dead to collect insurance money so broke the convict out of jail to frame him for the murders. You won't see any kill strikes, just gashes and dried blood, alot of blatant nudity for nudities sake and not plot (ok, maybe that's not so bad), and a ton of worthless boyfriends who's only ability in this movie is to get themselves killed, because they sure don't provide any "protection" for the girls. They may as well have called this Slumber Party Massacre as it had no real connection to a Spring Break party at all. And btw, I love the Puppetmaster series. I hate this movie.
John Clements
Spring Break Massacre Quotes
There are no approved quotes yet for this movie.