Springtime in a Small Town (Xiao cheng zhi chun)
(2002)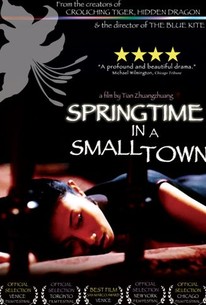 TOMATOMETER
AUDIENCE SCORE
Critic Consensus: Director Tian Zhuangzhuang's remake of the 1948 Chinese classic may be too measured in pace for some audiences, but it's a visually sumptuous, well-acted piece.
Springtime in a Small Town (Xiao cheng zhi chun) Photos
Movie Info
For his first feature since 1993's acclaimed The Blue Kite, director Tian Zhuangzhuang chose to remake a classic 1948 Chinese film, Springtime in a Small Town. The film takes place in 1946. Yuwen (Hu Jingfan) lives on a country estate with her sickly husband, Dai Liyan (Wu Jun), and his rambunctious teenage sister, Dai Xiu (Lu Sisi). They are waited on by the family's longtime servant, Lao Huang (Ye Xiaokeng). Yuwen cares for her husband and she's kind to him, but she doesn't seem to love him. Frustrated with his inability to give her a child due to his constant illness, she sleeps in a separate room. For his part, Liyan feels guilt and shame over his inability to properly care for his wife. Their lives are disrupted by the arrival of Liyan's childhood friend, Zhang Zhichen (Xin Bajqing), a well-traveled doctor. Liyan soon learns that his old friend was once his wife's neighbor, but he doesn't know that they were also in love, and had at one time planned to marry. Tensions swirl about the household as Yuwen and Zhichen try to reconcile their lingering feelings for each other with their responsibility to Liyan. Springtime in a Small Town won the San Marco Prize at the 2002 Venice Film Festival, and was selected for the 2002 New York Film Festival.
Rating:
PG (for some thematic elements)
Genre:
,
Directed By:
Written By:
In Theaters:
On DVD:
Runtime:
Studio:
Palm Pictures
Critic Reviews for Springtime in a Small Town (Xiao cheng zhi chun)
Audience Reviews for Springtime in a Small Town (Xiao cheng zhi chun)
½
Springtime in a small town was a slow movie.The set was beautiful and I was really waiting for something special to increase my interest in this movie but it never happened. The movie was boring, it only had 5 people in the movie and it was almost two hours long which was totally unnecessary. Most of dialogues were slow and meaningless. The movie tone was also dark,which felt so depressing to watch. I know this was a remake of a 1948 version, which I heard the original version was way better.My problem with Springtime was despite the beauty, there was no depth to the story.
Daisy Maduro
Super Reviewer
½
A quiet, slow paced film. Rich character development, a subtle love triangle, and a taste of Chinese culture from the period after the war and before the Revolution, the film still has the power to draw one in. The story revolves around a man and his wife, his sister, their servant, and the friend who comes to visit. The scenery is austere, the camera work is engaging, the acting is passable. One wishes he understood more of the customs of the times, but the overall sense of the film is genuine. No explosions and no fireworks, just a view of another time and place, this film is not for audiences who crave the adrenalin rush. Just add thought and rumination for a pleasurable experience. Three and a half stars. One note: this viewer found it humorous to hear a Chinese schoolgirl singing a native folk song to the tune of a Strauss waltz! Who knew?
Mark Abell
Super Reviewer
Plotwise it's sort of a cross between In the Mood for Love and Days of Heaven. So at the heart of it is a love triangle. I am usually biased against stories involving love triangles, and a lot of this film has the same things that I dislike about the situation, but it succeeds in subtly presenting believable characters that you can relate to unlike say Jules and Jim, so overall it didn't bother me as much as I thought. The lush cinematography by Mark Lee Ping-bin and the brilliant use metaphors like with Tian's previous film The Blue Kite does make it one a cut above your average melodrama. Since this is a remake of a 1940s film the narrative style is pretty old fashioned. I went to watch this thinking that I would see the original film, often hailed as the greatest Chinese film ever, hopefully I'll see that on DVD someday.
X. T. C.
Springtime in a Small Town (Xiao cheng zhi chun) Quotes
There are no approved quotes yet for this movie.