Spy
(2015)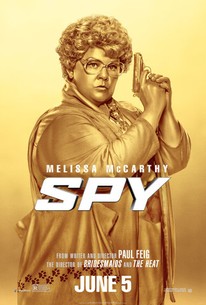 TOMATOMETER
AUDIENCE SCORE
Critic Consensus: Simultaneously broad and progressive, Spy offers further proof that Melissa McCarthy and writer-director Paul Feig bring out the best in one another -- and delivers scores of belly laughs along the way.
Movie Info
Susan Cooper (Melissa McCarthy) is an unassuming, deskbound CIA analyst, and the unsung hero behind the Agency's most dangerous missions. But when her partner (Jude Law) falls off the grid and another top agent (Jason Statham) is compromised, she volunteers to go deep undercover to infiltrate the world of a deadly arms dealer, and prevent a global disaster. (C) Fox
People Who Like this movie also like
News & Interviews for Spy
Audience Reviews for Spy
Enjoyable silliness with a few laughs thanks to Melissa and her "glamorous" aliases. The spy genre is not a favourite, but I found this fun even though I don't see it as a favourite to rewatch. Rose Byrne is good too.
Nicki Marie
Super Reviewer
A frumpy CIA analyst is forced into the field when a nuclear terror plot blows the cover of all the other agents. Melissa McCarthy and Jason Statham are as unlikely a comic duo as one can name, and yet they work wonderfully together in this fun spoof of the spy film genre. McCarthy is hilarious, and Statham's deadpan delivery never misses. While there is a lot to like about this film, it stretches the suspension of disbelief to its limits. At times it tries to walk the tightrope of pseudo-realism and Naked Gun-style farce but totters back and forth confusingly. Also, there are some wells that the film goes to too many times, as though all the writers' brainstormed lines had to make it into the film. Overall, it's a fun diversion and a fine comic turn by many of its stars.
Jim Hunter
Super Reviewer
As a ridiculous comedy, Spy wholeheartedly delivers the laughs. What deepens this into a tour de force, rests in the way Melissa McCarthy subverts our expectations. She is a heroine to be admired because she is so darn talented. When she fights a lithe knife wielding assassin in the tight confines of a restaurant kitchen, she demonstrates athleticism by using a frying man to defend herself. The visual sight gag is a spectacle of perfectly timed physical satire and choreography. The understanding is, these powerful specimens may be good, but Susan is better. Melissa McCarthy has the ability to take even slow parts and make them shine. Add Rose Byrne as the emotionless villain and you have a match made in comedy heaven. If you could bottle their chemistry, you'd have the key ingredient for any successful duo. The rest of the star filled supporting cast (Jason Statham, Miranda Hart, Bobby Cannavale, Allison Janney, Jude Law) are amusing too. They're just not quite at the level of McCarthy or Rose Byrne. That's OK. There's more than enough laughs here to sustain two movies. Spy is the most gut-bustingly funny movie of the year so far. I wouldn't be surprised if it retains that title. fastfilmreviews.com
Mark Hobin
Super Reviewer
Spy Quotes
| | |
| --- | --- |
| Susan Cooper: | God you're funny huh? No it's just me and it would be in your best interest to keep Fine alive. |
| De Luca: | I'm sorry. I'm not following your logic |
| Susan Cooper: | Want me to sum it up for you? You're about to make a deal with Solsa Dudaev, a man I've been collecting intelligence on for years. I'm sure that your men were too busy manscaping and failed to tell you that almost half the men he deals with end up dead. And I sure as shit know as to when to cover up a Russian flag tattoo, since Dudaev's brother was killed by the Russian military. God, do you own a computer, heard of fucking Google. Your little girlfriend at the club last night? She was just using you to get to Rayna and if it wasn't for me, you'd be sitting here holding your dick in your hand and you wouldn't have been able to find that bomb. |
| | |
| --- | --- |
| Colin/Frederick: | Blow that thing all you want lady. |
| Susan Cooper: | Yeah? Well why don't you blow me Colin!! |
| Susan Cooper: | Yeah? Well why don't you blow me Colin! |
| Colin/Frederick: | ...It's Frederick!! |
| Colin/Frederick: | It's Frederick! |
| | |
| --- | --- |
| Elaine Crocker: | I must have watched this like fifteen times because what the fuck?! I almost put it up on YouTube. |
Discussion Forum
Discuss Spy on our Movie forum!