Spymate
(2004)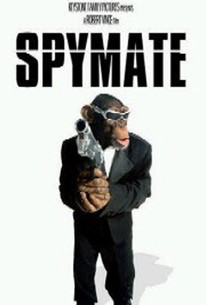 Movie Info
In the wacky Canadian family comedy Spymate, a superspy named Mike Muggins (Chris Potter boasts a most unusual sidekick: a gun-toting chimp in a three-piece suit named Minkey, who operates as one of the country's best undercover agents. Mike and Minkey must team-up to foil the baddies when a sinister villain, Dr. Farley (Richard Kind) kidnaps Mike's twelve-year-old daughter Amelia (Emma Roberts), a scientific wunderkind. When Farley plans to use an expanded version of Amelia's invention -- a groundbreaking chemical drill -- to take over the world, only Mike and his furry companion can thwart Farley's fiendish plot.
Critic Reviews for Spymate
Audience Reviews for Spymate
A movie for the whole family to hate! This is one of the worst movies I have ever seen. I guess the plot is where it all starts to sound stupid. I would not recommend this to fans of even the many awful sequels to Air Bud.
Andruw Futcher
It's that damned monkey. He's highly trained. Minkey is a super-spy chimpanzee that hides his identity by performing in the circus on the side. When his partner's daughter is kidnapped, he springs into action. He will go through copious training and research to get to the bottom of the case. Can Minkey save the kidnapped little girl? "Who will win, man or machine?" Robert Vince, director of Spookie Buddies, Snow Buddies, Space Buddies, Santa Buddies, Air Buddies, The Search for Santa Paws, Santa Paws 2, Treasure Buddies, and Air Bud: Seventh Inning Itch, delivers Spymate. The storyline for this picture actually kept my daughter's attention from beginning to end. The action sequences were creative and the monkey was awesome. The acting was as you'd expect for the genre and the cast includes Pat Morita, Emma Roberts, Kathryn Kirkpatrick, Richard Kind, Barry Bostwick, and Jay Brazeau. "Will somebody get rid of that flying monkey?" My daughter is really into the "Buddies" movies so I decided to give the Spymate/monkey movies a shot to see if she'd like them...she likes them better. Overall, this is a below average movie, but it does the trick of entertaining a 4 year old. I'm not sure that a child much older than 6 or 7 could like this movie, but children under that age may find it worthwhile. I wouldn't purchase this movie, but I would watch it with your little ones as a safe family fun picture. "Drop the egg." Grade: C-
Kevin Robbins
½
The plot is half-baked, there is an overuse of tired spy clichés, and it's, overall, embarrassingly over the top. I don't really recommend it.
Joseph Emerson
Spymate Quotes
There are no approved quotes yet for this movie.
Discussion Forum
Discuss Spymate on our Movie forum!