Squeeze Play
(1979)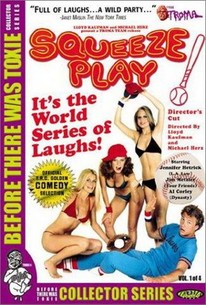 AUDIENCE SCORE
Critic Consensus: No consensus yet.
Movie Info
The estimable New Jersey-based Troma Films, the same firm that brought you such imperishable classics as Toxic Avenger and Chopper Chicks in Zombietown, was responsible for the raunchy baseball farce Squeeze Play. Rather than offer a litany of its highlights (such as they are), we feel that the tenor of the film is implicit in its bare-bones plotline. In the small town of Springborn (its principal industry is a mattress factory), the local all-male baseball team, The Beavers, celebrates each victory by bedding their wives, sweethearts and casual dates. Tired of this chauvinistic treatment, rebellious Samantha (Jenni Hetrick) organizes an all-girl team, the Beaverettes. She forces a battle of the sexes on the baseball diamond, pitting her buxom teammates against the dirty-playing Beavers. Rather enjoyable in its own sleazy way, Squeeze Play occasionally interrupts its R-rated sniggering to offer a parade of shameless product-placement plugs, and halfway through stops dead in its tracks for an interminable wet T-shirt contest.
Rating:
R
Genre:
Directed By:
Written By:
In Theaters:
On DVD:
Runtime:
Studio:
Troma
Critic Reviews for Squeeze Play
There are no critic reviews yet for Squeeze Play. Keep checking Rotten Tomatoes for updates!
Audience Reviews for Squeeze Play
½
I watched Squeeze Play with either a smile on my face or laughing almost the entire movie.I had fun watching it from beginning to end.I loved the dirty jokes & just loved the movie.The style of humor was right up my alley.I wish Troma would put out more movies like this
Brody Manson
Super Reviewer
Troma, the little independent studio that could, made a name for themselves with low-budget, dumber than dirt horror films. But they got their start in the late 1970's and early 80's with low-budget, dumber than dirt sex comedies, and "Squeeze Play" ranks among the worst of the worst. This limp, embarrassing, ultra-cheap dud was made strictly for the drive-in crowd, and judging from the quality of the film, they were even less discriminating than the made-for-video crowd of today. All you needed to succeed was a threadbare plot, some naked bodies and a bunch of "will work for food" actors and actresses that register at zero on the talent scale. The weird thing about this relic is that there's almost as much male nudity as female nudity, making you wonder who exactly they were targeting this picture towards. I think the makers were trying to be pro-feminist by showing the girls getting even with the guys, but it's not so feminist to edit out the wet T-shirt scene. The movie is kind of a predecessor to the original "Porky's", which is a film that gets most of the credit for starting the sex comedy boom of the early 1980's. This film is just bad enough to make a rightful claim to that honor. And this has the added bonus os getting to see a guy catch a baseball with his butt cheeks, and judging from Troma president Lloyd Kaufmann's commentary before the movie, it is considered the picture's high point. He seemed very poud of it. That's good, I guess, because there's not much else to be proud of in "Squeeze Play". This gives low brow humor a bad name.
Timothy Sanders
It's really just another stupid comedy, but I found it enjoyable anyway, it's funny for the most part. The story is alright, even if it is silly. Overall, it's an okay movie, depending if you're in the mood for a stupid comedy or not.
Squeeze Play Quotes
There are no approved quotes yet for this movie.