Ssang-hwa-jeom (A Frozen Flower)
(2008)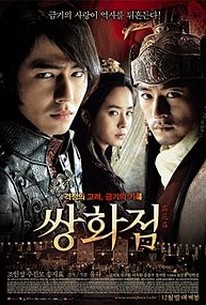 AUDIENCE SCORE
Critic Consensus: No consensus yet.
Ssang-hwa-jeom (A Frozen Flower) Photos
Movie Info
Director Yoo Ha helms the period saga A Frozen Flower as a plunge into the intrigues and machinations of the Korean dynastic era. The period is the late 14th century, and the last waning gasp of the centuries-old Goryeo Dynasty. As that regime comes to a bitter end thanks to the machinations of the Yuan Dynasty, The Goryeo king responds by organizing a military force known as Kunryongwe, led by the daunting commander Hong Lim. The leader captivates the king to an alarming degree - to such an extent, in fact, that he almost completely diverts the regent's attention away from his queen, leaving her with tremendous feelings of reluctance and hesitancy about this relationship. Meanwhile, the manipulativeness of the Yuan doubles: they unsuccessfully attempt to subvert the king by placing a threatening ruler in a high position, but the king - sensing this Machiavellian scheme - adamantly refuses, much to the consternation of the top-tiered Goryeo officials. The ruler also devises a complex and wickedly clever scheme to protect the Goryeo line for future generations by appointing Hong Lim to impregnate the queen and father a new ruler with her. ~ Nathan Southern, Rovi
Critic Reviews for Ssang-hwa-jeom (A Frozen Flower)
There are no critic reviews yet for Ssang-hwa-jeom (A Frozen Flower). Keep checking Rotten Tomatoes for updates!
Audience Reviews for Ssang-hwa-jeom (A Frozen Flower)
Wow, I'm I the only one who has seen this one? When I rented it via my TV and Internet provider, it said that it had sword fights, blood and erotic scenes. Can't go wrong there. Although the movie in itself wasn't that bad, it failed to grab me on an emotional level. Those erotic scenes they were talking about where present, but they didn't have the erotic tension you would expect. Maybe that's because you never really get to know the characters although the movie is 2hrs and 13min long. And that's it's biggest flaw.
Great story about historical kingdom and triangle love between the king, the queen, & the king's bodyguard... Similar story to Curse Of The Golden Flower which The King & The Queen weren't fall in love in each other and of course an internal war.. But in A Frozen Flower, the plot wasn't boring and keep surprising us from scenes to scenes or we can say it get interesting from minute to minute... The cast did a pretty good job, especially for Ju Jin-mo & Jo In-seong, which I was shocked to see how brave and intimate they're here... And for the movies itself, I feel like I watching Lust, Caution directed from Ang Lee blended with Quentin Tarantino's movies, so wild and a lot of blood...
Sanjaya 丘耀文
Super Reviewer
Ssang-hwa-jeom (A Frozen Flower) Quotes
There are no approved quotes yet for this movie.