Stacy
(2001)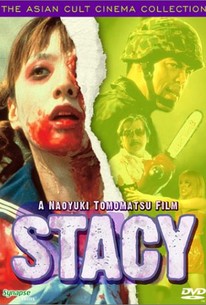 AUDIENCE SCORE
Critic Consensus: No consensus yet.
Movie Info
This 2001 J-Horror effort from director Naoyuki Tomomatsu is set in a future dystopia where teenaged girls begin dying for no apparent reason -- and often in an elated, chronically happy state of mind. One of these girls, Stacy, is back from the dead, however, and she's ready to gorge herself on human flesh. As more and more teenage-girl zombies begin to feast on the living, the people of Japan brace themselves and try to find a way to end the madness. ~ Michael Hastings, Rovi
Audience Reviews for Stacy
½
I hate to say this, but this one might be a good candidate for a remake. The problem is it had so many great ideas, and it started out really promising but just fucking looses it and becomes too convoluted. I was definitely dissappointed as on paper this film seems amazing. I mean there's a warning on it that mentions extreme violence and gore and bunny suits! On gore it delivers, on violence it's so-so and only one bunny suit for 5 minutes. But they could have done so much better. That being said, it has good aspects.
Patrick Dolan
Super Reviewer
Immense amounts of gore, supercute school girls that jitter and emit something resembling fairy dust, and a mad scientist who tries to make sense of it all. Tose are the three key elements of this film. *SPOILERY* Only in Japan would teenage school girls turn into blood thirsty zombies just for love! I do wish they would've explained why they were called Stacy, though. I think the Evil Dead and Romero references were cute - even if Romero jokes in zombie movies are getting a bit old - and I so totally want a Blues Campbell's Right Arm 2 of my own too! (The purple one, please.) Oh, and the IRTD were cute too.
vieras esine
Super Reviewer
Gory yet beautiful film about loving something that doesn't exist. The theme song is great and the film hardly ever lets up.
Christopher Brown
Super Reviewer
Stacy Quotes
There are no approved quotes yet for this movie.