Stagecoach to Denver
(1946)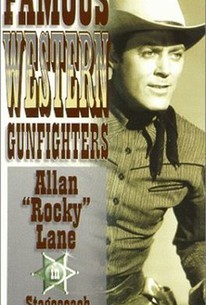 AUDIENCE SCORE
Critic Consensus: No consensus yet.
Stagecoach to Denver Photos
Movie Info
An exemplary "Red Ryder" Western, Stagecoach to Denver features Red (Allan Lane), his aunt, the Duchess (Martha Wentworth), and Little Beaver (Bobby Blake) caring for Dickie Ray (Bobby Hyatt), a young child who has broken his back in a stagecoach collision that also took the life of Land Commissioner Felton (Edward Cassidy). Unbeknownst to the people of Elkhorn, stage owner Big Bill Lambert (Roy Barcroft) had arranged the "accident" in order to get rid of the pesky land commissioner who threatened to ruin his plans for controlling all communication between Elkhorn and Denver. Little Dickie requires an operation but Doc Kimball (Tom Chatterton) needs the consent from his nearest relative, Denver resident May Barnes (Marin Sais), whom the boy has never met. Since she is scheduled to arrive on the same stage as the new land commissioner, Taylor (Tom Chatterton), Aunt May poses a problem for Big Bill, who has them both kidnapped and replaced with his own people, Wally (Stanley Price) and Beautiful (Peggy Stewart). The latter feels sorry for little Dickie and is ready to bail but Big Bill forces her to go through with the deception. The boy survives his operation, of course, and Big Bill's treachery is eventually revealed. But Beautiful pays a rather heavy price for her part of the deception when she takes a bullet meant for Bobby.
Critic Reviews for Stagecoach to Denver
Audience Reviews
There are no featured reviews for Stagecoach to Denver at this time.
Stagecoach to Denver Quotes
There are no approved quotes yet for this movie.