Stalking Santa
(2007)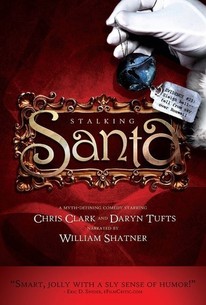 AUDIENCE SCORE
Critic Consensus: No consensus yet.
Stalking Santa Photos
Movie Info
A devoted "Santaologist" in search of the world's greatest living mystery attempts to cut through government conspiracy, big business hush-ups, and countless phony look-a-likes in order to prove the existence of the world's most instantly recognizable Yuletide merrymaker in a poker-faced mockumentary starring Christopher Clark, Daryn Tufts, and William Shatner. Millions of people around the world believe in Santa Claus, and a precious few even claim to have experienced a close encounter with the Christmas icon. But some folks won't be satisfied until they've come face to face with the man with the red stocking cap, and St. Nick enthusiast Lloyd Darrow (Clark) is just such a man. Now that the cameras are rolling, will Lloyd finally find the irrefutable truth that he has been searching for since childhood, or could it be that his lifelong fascination with all things Santa will finally come to a bitter end after a disheartening discovery?
Rating:
PG (for brief mild language)
Genre:
Directed By:
Written By:
In Theaters:
On DVD:
Runtime:
Studio:
Universal Pictures
Cast
Critic Reviews for Stalking Santa
All Critics (2) | Fresh (1) | Rotten (1)
Remember Conspiracy Theory? Mel Gibson would've made a perfect Lloyd Darrow. Plus, you know he believes in Santa Claus.
A smart, jolly affair ... destined, perhaps, to be a new Christmas cult classic.

Audience Reviews for Stalking Santa
½
[center][font=Times New Roman][size=4][color=white][img]http://www.idahofilmfestival.com/2007festival/2007films/stalkingsanta/stalkingsanta_poster.jpg[/img][/color][/size][/font][/center] [font=Times New Roman][size=4][color=white]Summary (from IMDB): In this offbeat comedy, self-proclaimed "Santologist" Dr. Lloyd Darrow (Chris Clark) will stop at nothing to take on government conspiracy, corporate supression and phony mall Santas--all in pursuit of the world's oldest yuletide enigma.[/color][/size][/font] [center][img]http://www.ericdsnider.com/images/stalkingsanta.JPG[/img][/center] [font=Times New Roman][size=4][color=white]Alright, I'm gonna keep this short. Basically, this is a decently funny family mockumentary about whether Santa Claus actually exists. There were some genuinely funny moments, but overall it was kind of dull. Not bad for a little-known Christmas family movie. I wouldn't watch it again, but it wasn't bad for one watch.[/color][/size][/font]
Chris Weseloh
Now THIS is the definition of a fun movie. Basically, we have a "mockumentary", one done in the comedic vein as opposed to the darker tone of say, Blair Witch. Two men, the entirety of TERD - Tangible Evidence, Real Discoveries (and that's pronounced "teerd!") are on a mission to uncover the truth about the existence of Father Christmas himself. Fortean enthusiasts such as myself (those with an affinity for the bizarre and unknown) will get more out of this as Dr. Darrow links Santa Claus to the Roswell Incident and even unveils very "sasquatch-esque" video footage of the jolly one! ...really, the film is NOT real. Rather it's a very clever and fun film, very similar in style to fellow spoof-mocku "The Incident at Loch Ness". The writers actually take the time to explore how Darrow's obsession with Santa affects his family . Stalking Santa is definately not for everyone...it's a strange film wtih a cheeky, subtle sense of humor. But the end result is just a goofy, humorous and undeniably fun idea for a film. William Shater does great as the narrator as well. A good watch for fans of mocku-spoofs or even cryptozoologists who can find the humor, sarcasm and psuedo-satire hidden beneath it's off-kilter surface. Be sure to visit www.terd.org!
Brad Acevedo
Discussion Forum
Discuss Stalking Santa on our Movie forum!
News & Features