Stan Lee's Mutants, Monsters and Marvels
(2002)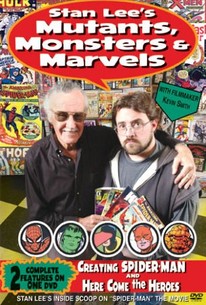 AUDIENCE SCORE
Critic Consensus: No consensus yet.
Movie Info
The two-part Stan Lee's Mutants, Monsters, and Marvels is basically an intimate discussion with filmmaker Kevin Smith interviewing legendary artist Stan Lee about the last 40 years of Marvel comics. Released on video a few days before the feature-length Spider-Man movie hit theatres, this documentary from Columbia TriStar Home Video investigates the history of the famous web-slinger as well as other Marvel superheroes. In the part one, "Creating Spider-Man," Stan Lee talks about getting the original idea, collaborating with Steve Ditko, developing side characters, and the eventual TV and film adaptations. Part two, "Here Come the Heroes," explores his other creations, including the birth of the Fantastic Four, the Incredible Hulk, and the X-Men. Both parts are presented in a widescreen transfer with Dolby Digital Stereo sound. This disc includes Stan Lee's original poem God Woke, and a previously unreleased Fantastic Four short. Extra features include a two-minute behind-the-scenes featurette; an interview with the artist's wife, Joan Lee; and home movie footage.
Critic Reviews for Stan Lee's Mutants, Monsters and Marvels
There are no critic reviews yet for Stan Lee's Mutants, Monsters and Marvels. Keep checking Rotten Tomatoes for updates!
Audience Reviews for Stan Lee's Mutants, Monsters and Marvels
½
Visually it's not going to blow you away. Much of it is just Stan Lee and Kevin Smith talking, but if you're at all interested in Marvel movies or comics, this is a really interesting conversation to be sitting in on. A lot of really fascinating stories and tidbits are shared. If you're a super die-hard maybe the stories are old hat, but if you're a fan, like me, who hasn't crossed over into the "die-hard" world, then it's really enjoyable.
Josh Hakala
½
Stan Lee is just a big kid in a Hugh Hefner-looking body, but what a Great Storyteller!! Jovial, thotful, nuanced, insightful & full of life - worth the time to get to know someone like Stan - so down to earth and interesting. Kevin Smith knows his subject well, but barely gets a word in edge-wise, not wanting to interrupt the flow of insight and fantasy pouring out. Sorry, no actual action heroes or cliffhangers here - just an imaginative, brilliant man on display with an interesting view on life which I found absolutely fascinating. If you like comics in any sense, you will appreciate this interview. If you also like to watch a movie with the director's commentary, you will be in your glory here. Wanna know what his wife is like? She's here too. A pixie-muse whom you fall in love with too. Wanna see where he lives? Got it. See an action figure someone made of Stan - hilarious. There's even an insightful poem about life on earth thru the eyes of Stan in the dvd extras that he wrote in the 60's called God Woke. Simply brilliant. Kevin wisely holds back to watch a word-craftsman work his miracles, and at the end of the day gets to call this man a friend. I LOVED this, and only wanted to see more. 4.5 out of 5 action figures
Thomas Porter
½
kevin smith . . . never interview anyone ever again without someone coaching you because after the 3 THOUSANDTH 'unh um mmhm right' i turned it off and its a shame cause stan's a killer dude, just so ya know bro your use of '. . .right' has made everyone who watches this want to grind their face on pavement (see youtube reviews), stop for the love of god stop . . . right?
Pat Pat
Stan Lee's Mutants, Monsters and Marvels Quotes
There are no approved quotes yet for this movie.
Discussion Forum
Discuss Stan Lee's Mutants, Monsters and Marvels on our Movie forum!