The Star Packer (He Wore a Star)
(1934)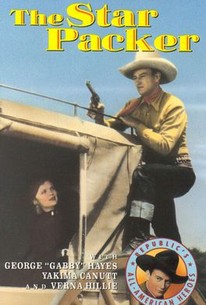 AUDIENCE SCORE
Critic Consensus: No consensus yet.
Movie Info
Definitely the most expensive-looking of John Wayne's "Lone Star" westerns, The Star Packer casts "the Duke" as U.S. marshal John Travers. Hoping to flush out a mysterious outlaw chieftain known only as "The Shadow," Travers becomes sheriff of a town where several unsolved murders have occurred. Accompanied by his Indian pal Yak (Yakima Canutt), our hero explores a tunnel leading from the sheriff's office to the outlaws' cave hideout. He manages to ascertain the identity of The Shadow, but first he must rescue heroine Anita (Verna Hillie) from the villain's clutches. As much a horror melodrama as a straightforward western, The Star Packer benefits from the casting of Lone Star "regulars" George (Gabby) Hayes and Yakima Canutt in highly uncharacteristic roles.
Audience Reviews for The Star Packer (He Wore a Star)
½
This is one of John Wayne's many low budget B-movie westerns. It's a very quiet movie. Almost a silent film with only a little background noise and very few lines of dialog. Just enough talking to move the story along. It's a proto-type of the Lone Ranger shows. The hero rides a white horse and has an Indian side-kick. He's on a secret mission to find the identity of the leader of an outlaw gang. Although it's set in the old west with horses, stagecoaches, wagons and a canoe the only female character wears 1920's era clothes and the bad guys have a World War I machine gun. Most of the movie is just people riding around on horses. When John Wayne goes into a secret tunnel at night he has a flashlight. I don't think they had flashlights in the old west. Then at the end of the movie after they catch the bad guy they jump 5 years into the future and John Wayne and the female lead are married with a little boy.
Donald White
The Star Packer (He Wore a Star) Quotes
There are no approved quotes yet for this movie.
Discussion Forum
Discuss The Star Packer (He Wore a Star) on our Movie forum!