Starchaser - The Legend of Orin
(1985)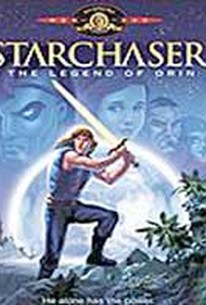 AUDIENCE SCORE
Critic Consensus: No consensus yet.
Movie Info
Rating:
PG
Genre:
Runtime:
Audience Reviews for Starchaser - The Legend of Orin
½
People say this movie is a ripoff of Star Wars, and there are definite similarities, but I think there's enough changes and original elements that make it worthwhile. I especially like the second quarter of the film after Orin has escaped the underground mine. There's also some excellent animation and early CG here. What I didn't like was the ending, I thought it could have been more dramatic. The film also has an element of a Gnostic parable in the beginning but doesn't really seem to deliver anything more than the standard expected conclusion. Nothing too meditative. My rating isn't really objective, I have a lot of affection for this type of animation. Objectively I would probably give it 67% or 70%. In summation I would say it's perfectly okay.
Joshua Beane
½
Yes, the film has flaws but all in all it's worthing watching more than once. There are some similarities with Star Wars but to say that the film IS an animated version of Star Wars or just a rip-off is hilarious because the plot is completely different. You can find the animated equivalents of Luke with his light saber, princess Leia, Han Solo with his Falcon, Lord Vader etc. etc. Yet they have more or less different personality than the SW-characters and I even dare to say that the story here is much more interesting than in SW. I agree with one of the reviews that there is Conan, Battlestar Galactica and many more in here.
Red Baron
½
[b][img]http://www.everypicture.com/shop/books/4ea10778d13157d752b6d03b78af3748/war-of-the-worlds.jpg[/img] WotW[/b] is less fun at home. Those awesome tripod things really need a big screen to be fully enjoyed. The effects still look spectacular, but there's just something about having those things huge and right in your face that createsa higher feeling of breathlessness than my 34" TV can initiate. Watching this the day after watching PJ's [i]Kong[/i] again was probably a mistake. I still like the things I liked before, the little screaming girl has never bothered me (during a real life alien invasion most little girls will scream just like that so get used to it), Tom Cruise might be playing it a little over the top but he's okay, the oldest son is still a bit annoying (and shows a flaw in the whole thing if you ask me...time moving too fast as the son is ready to join the fight against these creatures the day after it happens...perhaps some date/time labels would've helped keep it in perspective, of course that might've taken away a sense of disorientation...helll, I don't know! :( ), the design of the tripods is still amazing (although I feel Spielberg put most of his eggs in one basket with those tripods). Unfortunately, none of the other alien stuff measured up to those amazing vehicles. To the film's credit, those tripods look huge as they should and blend with the non-cgi beautifully. The ferry scene is the one point that keeps me from breathing for a bit. But perhaps Spielberg should've taken us inside the tripods as they are being control, and perhaps show us the alien planet (that he says is the same planet E.T. was from, just the darkerside of the place). Anyway, there's several pieces of masterwork in this film that remind me who made it. It'll take a few more viewings at home before I can just sit back, relax and fully enjoy. --------------- [img]http://images.rottentomatoes.com/images/movie/coverv/41/245841.jpg[/img] They goofed on the DVD cover and in the film. This is actually [b]Star Wars: The Animated Movie[/b]. That's Luke Skywalker with the lightsaber on the cover, you can also see Princess Leila, Han Solo, and an oddly more feminant C3PO. To the left of Luke is the evil Darth Vader. The cruise around the planets in the Millinium Falcan getting into all kinds of adventures and battling the many stormtroopers (who sport these crazy laser whips). It's all most excellent! /sarcasm Seriously, this is more "Star Wars" than the Star Wars prequels were. George Lucas would've done good to study this little bit of 2D animation from the 80s before going ahead with his flawed attempt to continue the series. They really got it right. It's Star Wars and Battlestar Galactica (maybe a little Beastmaster/Conan) throw in. At one point the characters on one ship are in a despirate situation and I yelled at the screen "oh, just beam em aboard, you haven't ripped off Star Trek yet...so go'head!!!" :p But it's pretty good. I wasn't totally in the mood for it so my rating is subject to change. The transfer is probably a good representative of the shape of the best print available. Old 2D animation with the same oddities as a Bakshi DVD would be. A little messy, just the way it was when originally in theaters.
James Perry
Starchaser - The Legend of Orin Quotes
There are no approved quotes yet for this movie.